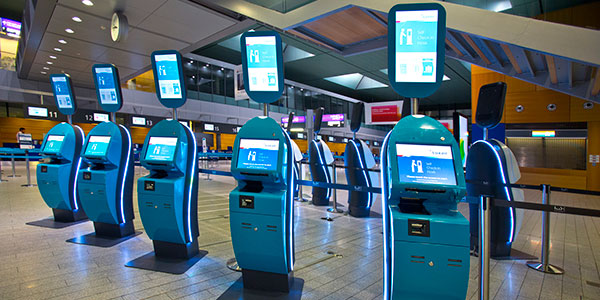 Travellers flying from Luxembourg Airport can now switch to an earlier flight using new self-service kiosks, which also allow passengers to print their own bag tags.
Five kiosks have been installed exclusively for Luxair passengers and a further five kiosks can be used by passengers flying with KLM, SAS and Luxair. Those who have booked a business or full fare economy ticket can check-in for an earlier flight if they have arrived at the airport early and if there is a seat available on the earlier flight.
The installation of the self-service kiosks is part of a wider programme to improve the passenger experience, which extends to the security checkpoint, where smaller, lighter trays have been introduced and benches have been added to help create a more relaxing atmosphere in the post-security re-composure area.
The latest developments follow the introduction of free Wi-Fi throughout the airport and the installation of charging point for passengers' electronic devices.