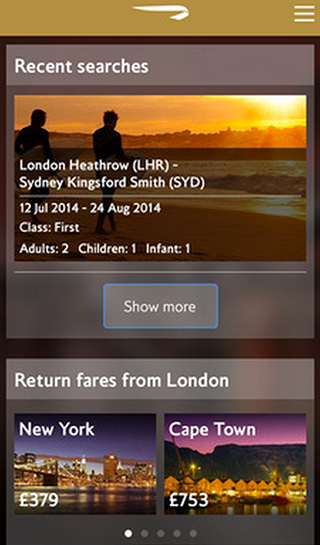 British Airways will soon allow its customers to pay for their flights using Apple Pay when they make a booking via the carrier's app.
Apple announced this week that Apple Pay will launch in the UK in July 2015, and the British flag carrier has been quick to react, ensuring it is among the first airlines to offer the new contactless payment service. Anyone using an iPhone 6 or iPhone 6 Plus will be able to use Apple Pay.
Whenever a consumer adds a credit or debit card to Apple Pay, the actual card numbers are not stored on the device or Apple servers. Instead, a unique Device Account Number is assigned, encrypted and securely stored in the device, and each transaction is authorised with a unique dynamic security code.
Kevin McQuillan, Head of BA.com, said: "We're excited that we will be one of the first UK companies to introduce Apple Pay, making booking flights even easier.
"The addition of Apple Pay – along with the recent launch of our app for Apple Watch, mobile gate notifications at Heathrow and our digital Executive Club membership card – are just a few of the ways in which we are helping our customers by putting more travel essentials at their fingertips."
Back in February, JetBlue Airways became the first airline to offer Apple Pay, initially for onboard purchases, ahead of adding it to its app.