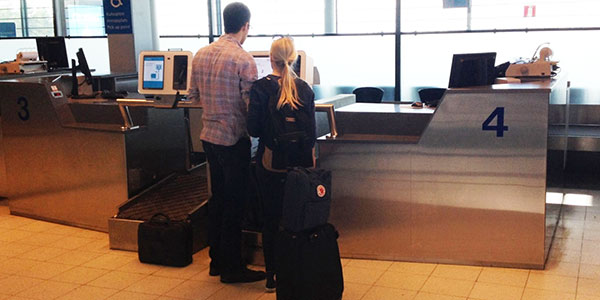 Finavia has introduced self-service bag drop at Turku Airport, following recent implementations at Helsinki and Oulu airports. The airport operator has opted for a two-step process, whereby passengers print their bag tags at a self-service kiosk and then advance to a dedicated bag drop belt, where they scan the bag tag using a handheld scanner and deposit the bag into the baggage handling system.
The self-service bag drop service is available to passengers flying with Finnair, and Johanna Bagge, the carrier's Director Customer Service, explained that rolling out self-service bag drop makes sense given the fact that 80% of Finnair's customers already make use of self-service check-in. In the coming weeks, SAS passengers will also be able to use the self bag drop service at Turku Airport.
Joni Sundelin, Finavia Senior Vice President and Director of Airport Network, Sales and Marketing, commented: "Finavia invests in smoother air travel by adding more self-service functions to its airports. Scan&Fly from Type22 smoothens the travel experience in peak hours and shortens the processing time. To us, it means a lot to improve the airport experience and to make the travellers happy."
Finavia's investment in self-service bag drop comes after Sundelin revealed to FTE last year how the airport operator plans to leverage self-service and mobile technology to protect the "smooth travel experience" on offer at Finnish airports.