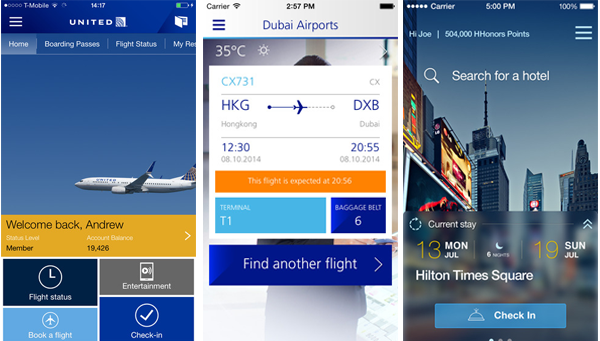 With smartphone penetration on the rise – 83% of passengers now carry a smartphone according to the latest SITA Passenger IT Trends Survey – travellers' reliance on apps to simplify their journey is naturally increasing. From booking to check-in to boarding, smartphones are already key tools in the travel process.
With this in mind, it's no surprise that pretty much every major airport, airline and hotel group now has at least one smartphone app, but is offering passengers access to hundreds, or thousands, of travel-related apps really the best approach? This was the question asked at the recent SITA Air Transport IT Summit, and the general consensus was that a new strategy is needed.
Mark Schwab, CEO of Star Alliance, which has 27 airline members, said: "No customer will download 27 airline apps, multiple airport apps and the apps of the five major global hotel chains. We must find ways…to give our changing customers access to, and control over, the products they require for a seamless journey."
Paul Griffiths, CEO of Dubai Airports, seemed to agree with this sentiment, and explained: "Those (third parties) who produce the consolidated apps could be the ones controlling the customer journey."
Airlines and airports are right to be aware of the role technology companies are playing in this space. As outlined in our interview with Google's Head of EMEA – Travel Top Accounts earlier this year, Google is already actively helping to shape traveller habits and experiences with the likes of Google Now and Google Flights. Another technology giant, Facebook, is also keeping a close eye on opportunities in the travel sector. In fact, both Google and Facebook will reveal more on their travel-related plans and visions in keynote addresses at Future Travel Experience Global 2015, 9th-11th September, Las Vegas.
Creating a common, trusted platform
According to Thomas Windmuller, IATA's Senior Vice President – Airport, Passenger, Cargo & Security, development of a common platform to host accurate, timely flight and travel information is a concept worth exploring.
"If I'm an airline, I know what time my flight is departing…but others now think they're just as qualified to provide that information (to passengers)," he said. "Who is the passenger going to listen to? Whichever party provides the most accurate, up to date, reliable, tailored and user-friendly data that adds the most value." He recognised that airports and airlines are now competing with third party companies to become the trusted source of flight and travel information, but claimed: "This competition is good".
"We all think we've got the best information, but that's rarely true," Windmuller continued. "We need to collaborate and each provide the best data we have to a common platform. Then we can compete to channel that information from the trusted collaborative platform to the passengers."
Jim Peters, SITA's Chief Technology Officer, said "deep linking" of apps has potential merits, but the question remains as to whether airlines will be willing to "share eyeballs" to create a more seamless app-based experience.
All-encompassing digital travel companions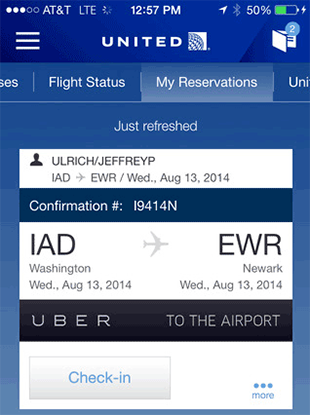 United Airlines already offers an app that is widely recognised as being one of the best in the industry thanks to the inclusion of inventive features such as passport scanning, a "travel wallet" and integration with Uber.
Peter Hammer, United's Managing Director – Information Technology, explained that the carrier works with various partners to create the best possible mobile offer. "We allow our partners to enable us with their experience and depth of knowledge. We've learned that partners bring key information to us that we couldn't do without," he said. "Our partners today are as much invested in improving the experience as we are."
United's app provides an example of what can be achieved through collaboration and the pooling of resources and expertise, but the industry as a whole still has a long way to go to create more intuitive and effective mobile experiences for travellers.
Passengers crave simplicity, but to turn smartphones into all-encompassing digital travel companions, all stakeholders must show a willingness to collaborate, including with third-party technology companies, for the common good of the passenger experience.
As SITA's Jim Peters said, airlines and airports should "not be fearful of engaging with the big boys" to help create a seamless mobile experience.