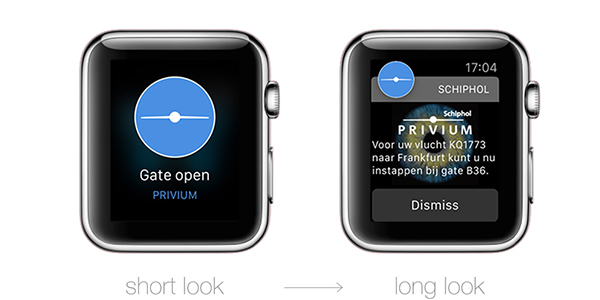 Members of the Privium frequent flyer programme are trialling a new Apple Watch app at Amsterdam Airport Schiphol.
During the trial period, selected Privium members can use the smartwatch app to view flight information and real-time notifications during the departures process. Following the six-week trial, participants will be asked for their feedback on how the app has performed and how it can be improved. The app has been developed for Schiphol by M2Mobi, which will monitor and analyse usage of the app during the pilot.
Amsterdam Airport Schiphol has also announced that it has installed a total of 2,000 beacons in all public areas of the airport as part of its strategy to "improve the digital service for its visitors".
These beacons enable the airport and other stakeholders in the terminal to relay location-based information to passengers' mobile devices when they are passing through the terminal. The Bluetooth low-energy beacons have been installed in the departure halls, lounges, piers and baggage reclaim areas, as well as in the Plaza shopping mall and the World Trade Center corridor.
Albert van Veen, Chief Information Officer, Schiphol Group, said: "We have deployed beacons at Schiphol for all our partners. Airlines and other parties can use the beacons to develop new smart applications that will improve the passenger experience at the airport even further. This summer, the Schiphol app will offer new services based on location."