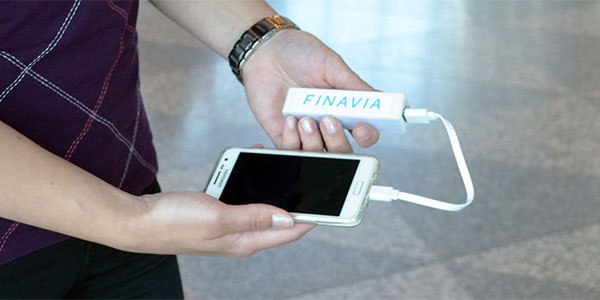 Finavia is trialling the use of portable chargers for mobile phones, which allow passengers to charge their devices without having to find a power socket. The Finnish airport operator says the mobile chargers will "liberate the passengers" and enable them to continue to move around the terminal with their mobile device and the charger in their hand or pocket.
"Getting more free time reduces stress and gives passengers better opportunities to utilise the services at the airport," explained Eero Knuutila, Head of Service Development, Helsinki Airport.
The trial, which started on 7 July and will run until 23 July is being undertaken as part of research for a thesis at Tampere University of Technology, and has now been integrated into Finavia's own customer experience development work.
The chargers have a micro-USB port and can be used to charge most Android and Windows phones. They can be collected in the terminal and must be returned at the departure gate ahead of boarding.
This trial of portable chargers follows Emirates' recent installation of inductive charging trays in its lounges at Dubai International Airport to make it easier for passengers to charge up their smartphones before flying.