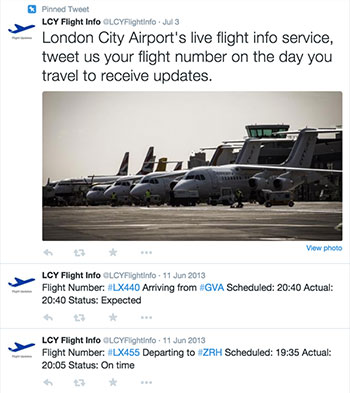 London City Airport has launched a new service that allows passengers to opt in to receive automated flight updates directly to their mobile device via Twitter.
Passengers can now Tweet their flight number to @LCYflightinfo on the day of travel to receive updates with information such as departure times and the boarding gate number for their specific flight. The service is powered by BizTweet.
Alison FitzGerald, London City Airport's Chief Information Officer, said: "We have invested heavily in technology to improve the passenger journey throughout all areas of the airport. BizTweet adds another string to our bow, putting the latest information at the fingertips of our customers and providing a social media outlet, which sends the selected information required by the passenger.
"It is another example of how we can tailor the passenger journey – interacting online with access to relevant, timely information is all part of improving the customer's experience."
Last year fellow UK airport Leeds Bradford International introduced its own Twitter-based flight information service for passengers, while Dubai Airports also announced that it had partnered with BizTweet earlier in 2015.