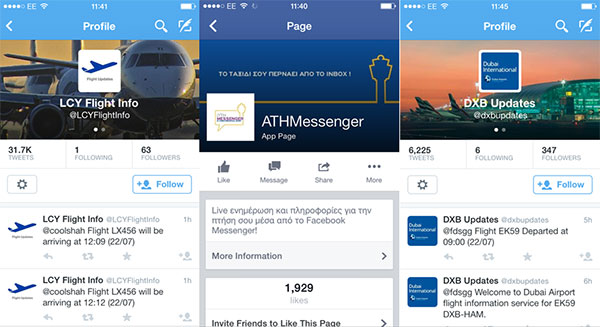 Providing timely and relevant updates to passengers is a sure-fire way to help them keep on top of their travel plans and relieve stress during the day of travel, and airports and airlines are increasingly turning to social media, leveraging a variety of channels to create key communication platforms.
The emphasis being placed on social media is highlighted in the latest Airport IT Trends Survey by SITA, which states that managing customer relations via social media is on the rise, with 30% of airports using social media to improve customer relations in 2014; a figure that is expected to increase by a further 40% by 2017.
This week, Athens International Airport became the latest airport to throw its weight behind the benefits of using social media to keep passengers informed by launching the "ATH Messenger" service, which is delivered via Facebook Messenger. Passengers can log in to Facebook Messenger on their mobile, tablet or laptop and opt in to receive live flight information simply by providing their flight number.
The launch of ATH Messenger comes just weeks after London City Airport announced that it is making use of another social media channel, Twitter, to provide passengers with automated flight updates. By tweeting their flight number to @LCYflightinfo, passengers opt in to receive real-time updates, such as departure times and gate information. A similar Twitter-based service is also offered by Dubai Airports via the @DXBupdates handle. As well as flight updates, passengers flying from Dubai Airport also receive exclusive airport offers. Elsewhere, the likes of Aberdeen Airport and Leeds Bradford International Airport offer bespoke flight updates via Twitter.
Commenting on the launch of London City Airport's Twitter-based service, Alison FitzGerald, the airport's Chief Information Officer, said: "It is another example of how we can tailor the passenger journey. Interacting online with access to relevant, timely information is all part of improving the customer's experience."
KLM #HappytoHelp
It is not just the airports exploiting the benefits of social media to deliver timely notifications. Last October, KLM launched a short-term project called #HappytoHelp, which saw the carrier set up an operating hub at Amsterdam Airport Schiphol, which staff used as a base for their Twitter-based customer service activities. Passengers could tweet their questions or concerns along with the #HappytoHelp hashtag, and the KLM team responded to all enquiries immediately. They also scoured social media to actively find passengers who might be in need of assistance, and tweeted them advice and even personal video tips.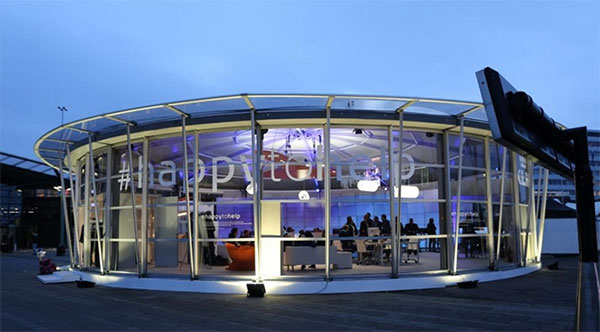 The campaign was more about highlighting how important customer service is to the carrier in general, but served to outline how social media can be used to improve the passenger experience. Such is the importance of Twitter to KLM's customer service strategy, every five minutes the carrier updates it Twitter page to state how long someone can expect to wait for a reply to their tweet. At the time of writing, the KLM Twitter account said: "We expect to reply within 48 minutes".
Instant messaging opportunities
Facebook-owned instant messaging platform WhatsApp has also emerged as a useful real-time communication tool between airline and passenger. KLM announced earlier this year that a select group of Flying Blue customers would be taking part in a trial of WhatsApp-based customer service. Fellow Dutch carrier Transavia has also turned to WhatsApp, inviting passengers to use the platform to send any questions they may have about their journey. The service complements the airline's Twitter, Facebook and call centre communication channels.
"This could be questions about hand and hold luggage, online check-in or other services," explained Roy Scheerder, Transavia's Chief Commercial Officer, referring to the WhatsApp service. "Transavia always responds within an hour. This is the social media promise we make."
This ability to consistently respond to questions almost immediately, and to pro-actively inform passengers of any changes to their flight status, is why social media is becoming embedded in the customer service strategies of so many airports and airlines. Considering more than 80% of people carry a smartphone when travelling and the number of active users of social media continues to increase – more than 1.4 billion people have signed up to Facebook, and Twitter has in excess of 300 million active users – it seems social media will play an even more important role in simplifying the travel experience going forward.