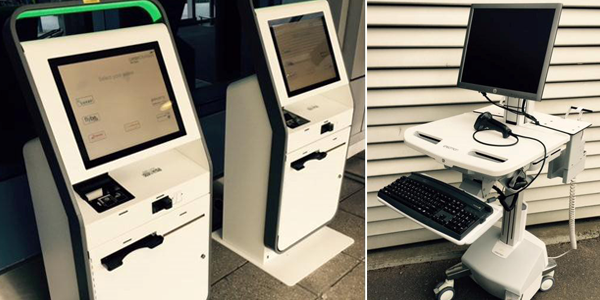 London City Airport has made a significant investment in new technology to help improve the passenger experience. A total of 26 state-of-the-art self-service check-in kiosks, mobile check-in desks, new flight information display screens (FIDS) and "smartwall" screens have been introduced to help ensure passengers enjoy a fast and simple departures experience.
The investment comes as the airport reports record passenger numbers, with July 2015 proving to be the busiest month in the airport's history, with more than 400,000 passengers passing through its doors during the month.
The SITA-supplied common use kiosks have been designed to make the check-in process as intuitive as possible, while the mobile wireless check-in desks will be deployed during peak periods, so passengers can be processed without having to queue at a traditional check-in desk.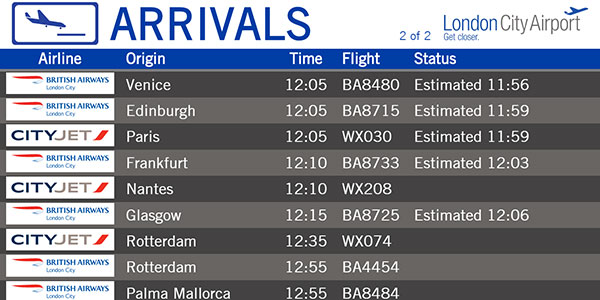 The new FIDS are linked to a content management system, which allows the airport to easily control what information is displayed at any given time. For instance, the screens can display flight status information, wayfinding information and specific messaging during potential disruption situations. A total of 89 news FIDS will be installed, along with the smartwall screens, which London City Airport says are designed to support check-in operations.
To make the most of the limited terminal space, the airport is also developing new technology, which will allow it to gather data on check-in processes and passenger dwell time, which can then be studied with the view of improving operations.
Alison FitzGerald, London City Airport's Chief Information Officer, who will participate in the "Airport Futures" conference session at FTE Global 2015 (9th-11th September, Las Vegas), said: "This new technology is a timely introduction with the summer season upon us. We have already set record passenger numbers more than once this year and we are on course to welcome 4.1 million passengers in 2015, up from 3.65 million in 2014.
"We have already introduced free and fast Wi-Fi, improved seating featuring power points for passengers to charge phones and other devices, and the new kiosks, wireless check-in desks, and FIDS will all help us to meet the increasing demand we are facing and provide our customers with the high quality level of service they have come to expect from us."