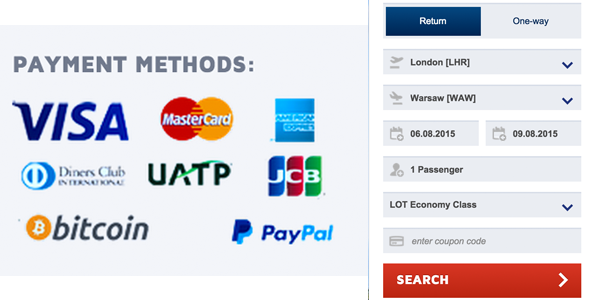 LOT Polish Airlines now allows passengers to pay for their tickets using the Bitcoin virtual currency. Bitcoin payments will be accepted on the carrier's website and on the LOT mobile app.
The ticket price will be calculated in the currency selected by the passenger and at the payment stage the total amount will be converted into Bitcoins, and the customer will be redirected to their Bitcoin Wallet to complete the transaction.
Explaining the decision to accept virtual currency payments, Jiri Marek, Sales Distribution Executive Director at LOT, said: "It's just a matter of time until payments with the online currency will become as popular as using credit cards today. We notice this potential, which is why we are one of the first airlines in the world to give its passengers the possibility of paying with Bitcoins as early as today."
LOT is not the first carrier accept Bitcoin payments. Last year, Latvian carrier airBaltic became the first airline to support Bitcoin as a payment method. US-based vendor GuestLogix also recently announced that its Transaction Processing Engine will enable the acceptance of onboard payment by virtual currency.