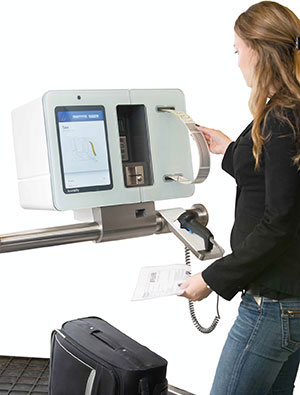 Airport Authority Hong Kong has signed an agreement with Rockwell Collins for the installation of 120 common use self-service bag drop units at Hong Kong International Airport.
The airport already uses Rockwell Collins' ARINC MUSE passenger processing platform and BagLink baggage message distribution system, and the vendor will now integrate Type22's Scan&Fly self-service bag drop into the existing system. This will allow passengers to self-tag their bags, before depositing them into the baggage handling system.
Vivian Cheung, Deputy Director, Airport Operations, Airport Authority Hong Kong, said: "It is always our objective to provide the best operational efficiencies and enhance passenger experience to our users from all around the world, and hence we keep track of the latest technologies available and adopt them in HKIA when suitable.
"This new self-service solution would equip us with the necessary facilities to make our service even better, as well as matching with the global trend of self-service check-ins."
Heament John Kurian, Managing Director, IMS Asia Pacific for Rockwell Collins, added: "Solutions like this enable us to deliver improved operational efficiency and an enhanced passenger experience to valued customers like Airport Authority Hong Kong."