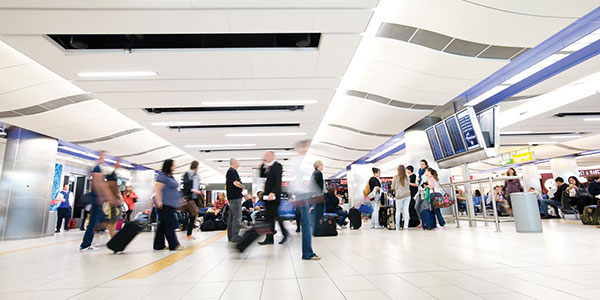 So called "self-connecting" flights often offer travellers a more convenient and cheaper way of travelling on a multi-leg journey, but the downside is the lack of protection on offer if something goes wrong along the way. However, in a bid to protect self-connecting passengers, Gatwick Airport has launched what it says is a first-of-its-kind service called "GatwickConnects".
Self-connecting passengers are those that book separate tickets to fly from City A to City C, via City B. For instance, a traveller may opt to fly from Inverness to Gatwick Airport on one ticket, and then fly on from Gatwick to Palma on a separate ticket. However, unlike with a multi-leg journey booked on a single ticket with a legacy carrier, if the passenger misses the connecting flight they have no protection, which can lead to serious inconvenience and a sizeable financial loss for the passenger.
Offering passengers peace of mind
Gatwick Airport, which serves mostly point-to-point traffic, has decided to address this issue with the launch of GatwickConnects. This new booking platform allows travellers to book self-connecting flights in one transaction and offers peace of mind that the airport will take care of them if things don't go as planned. At present, GatwickConnects flights can be found when booking through Skyscanner and Dohop. The new service marks a significant expansion of the "Gatwick Connect" service that was launched in 2013 and provided a dedicated counter for self-connecting passengers to check-in for their next flight.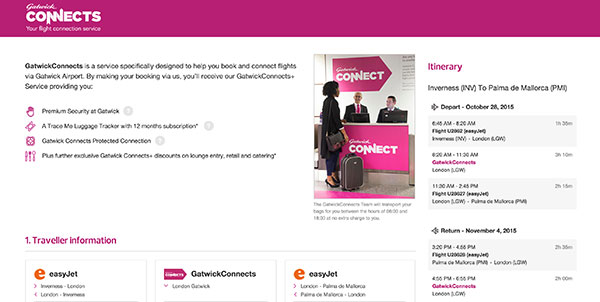 Chris Baldwin, Business Development Manager and GatwickConnects Lead at Gatwick Airport, told FTE: "We set our strategy early on after change of ownership to compete to grow to become London's airport of choice. This led to some significant immediate improvements at the airport and also allowed us to try to truly understand the requirements of our passengers no matter what reason they were travelling for. Our extensive research into changing passenger behaviour and requirements over the last few years identified a huge number of people who were travelling through the airport on a self-connection."
If a passenger's self-connecting journey is disrupted due to no fault of their own, they can pay a visit to the GatwickConnects desk in the terminal and the airport will take responsibility to rebook them onto an alternative flight, provided they booked via the GatwickConnects platform. "GatwickConnects takes this responsibility," Baldwin explained. "Our onsite booking process ensures the best possible passenger experience."
Of course, passengers have to pay an extra fee for the GatwickConnects service. This fee is absorbed into the flight booking cost and starts at £27.50 for a one-way journey. A missed self-connecting flight could, however, cost a lot more, especially when taking into account the cost of re-booking a new flight and possibly having to fund a stopover if the next flight is not until the following day. The fee also includes a number of benefits, such as premium security access, a complimentary drink at the airport, and discount vouchers for lounge entry.
More airlines likely to sign up to GatwickConnects
As things stand, three carriers have signed up to participate in GatwickConnects – easyJet, Norwegian Air Shuttle and WOW – but Baldwin explained that Gatwick is actively working to include more airlines in the initiative to ensure as many passengers as possible have the chance to benefit.
He said: "We have such a unique mix of airline models at Gatwick and also the largest European network. Even though we already can offer the service to over 50% of our traffic, we of course want to continue to compete to grow. We can now connect low cost to low cost, low cost to full service and vice versa. We are in the early stages of our next wave of airlines. We expect to see larger coverage phasing in over the next 12 months."
Although not all self-connecting passengers will want to pay an extra fee to protect their journey, Gatwick Airport's move to offer protection to the increasing number of passengers travelling on more than one booking is certainly a positive one, and could help to set the airport apart in the ultra-competitive London market.