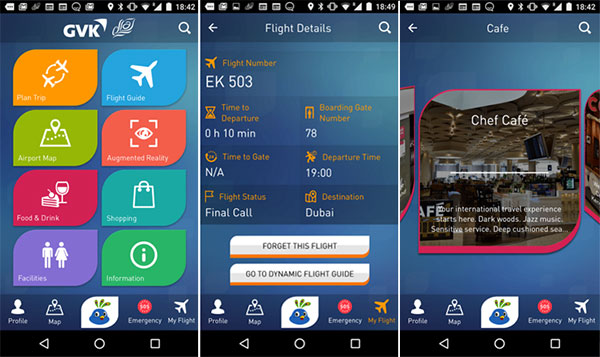 GVK Chhatrapati Shivaji International Airport (CSIA) in Mumbai has launched a new smartphone app that includes a number of advanced features to help simplify the passenger experience. Among the most eye-catching features is the use of augmented reality technology, which provides passengers with information on nearby facilities as they walk through the terminal.
By selecting their flight on the app, passengers can opt in to receive push notifications relating to their specific flight. A combination of Indoor Atlas and iBeacon technologies provides the platform for the magnetically modelled indoor maps. This is the first time iBeacons have been installed in an Indian airport.
CSIA says it plans to continue to develop the app, which is available on iOS and Android platforms. For instance, a taxi booking service will be added, as will a virtual walkthrough feature, which will allow passengers to experience various sections of the airport on their smartphone.
Rajeev Jain, Chief Executive Officer, Mumbai International Airport Limited, said: "We constantly endeavour to provide world-class facilities at T2, and always strive to make it as easy as possible for air travellers to discover them. With the Mumbai T2 app, travellers can design their own customised experiential tour with a single click.
"Moreover, we being a 'silent' terminal, cutting down on public announcements, the app will be a very handy tool for passengers to keep track of their flight schedule through constant notifications."