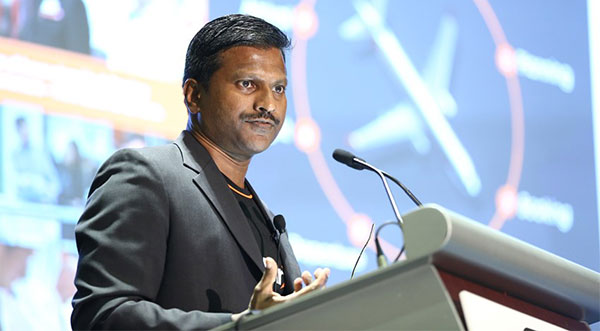 "The customer has become the heart of our business." Not the words, as you might expect, of a major legacy airline boss, but those of Barathan Pasupathi, CEO of low-cost carrier (LCC) Jetstar Asia, who addressed delegates at Future Travel Experience Asia EXPO 2015 last month. Customers – even those flying with LCCs – don't just want the lowest fare in the market, he explained, they're looking for an experience, which is why Jetstar Asia has made passenger experience a key priority.
More than 1,000 senior figures from airlines, airports, vendors, government agencies and a variety of other travel industry stakeholders attended Asia's largest passenger experience expo in Singapore, and those attending the premium conference streams were treated to an inspirational address by Pasupathi, who highlighted how a pioneering spirit and a customer-centric attitude can help an airline stand out from the fierce competition.
Innovation is a word we often hear, Pasupathi explained, but for Jetstar Asia the word has a three-pronged meaning; it's about driving upwards customer advocacy, delivering the lowest possible costs and increasing revenues. In essence, if an initiative achieves all three of these criteria, it can be seen as effective innovation. Such examples are apparent throughout Jetstar Asia.
One of the clearest instances is in the airline's use of self-service. The rollout and promotion of the "Straight to Gate" initiative has helped to drive uptake of mobile boarding passes, while other self-service rollouts have helped to cut queues at the counters, reduce the reliance on manpower and create a more seamless airport experience for many customers.
The self-service initiatives at Changi Airport – including the use of mobile boarding passes and self-service check-in kiosks, self-tagging capabilities and self-bag drop counters ­– have "pushed 50% of passengers away from the counter", Pasupathi explained, while at Melbourne Airport's new Terminal 4, Jetstar has achieved 100% self-service for domestic services. Putting this achievement into perspective, Pasupathi told delegates: "10 years ago when we started in Singapore no-one was talking about customer experience or innovation".
Understanding the customer
Gaining a deeper understanding of its customers is also at the core of Jetstar Asia's rise, Pasupathi said. A detailed study on segmented customer drivers was undertaken, which included a focus on the "millennial tribe" – the new generation of traveller, who will account for much of the industry's growth in the coming years. "This is the most open-minded generation ever to travel, and we are shaping a customer experience for these travellers," Pasupathi said.
Business travellers are another important market for the carrier. With an ever-increasing number of business travellers now willing to fly with LCCs, Jetstar Asia is also "re-targeting how we can sell the proposition to business travellers".
The point of booking is also an area that has been targeted by Pasupathi and his colleagues, with a new-look website now contributing to the improved customer experience. "We've halved the time it takes to buy a ticket on the website – it's gone from six steps to three steps," Pasupathi explained. He added: "Websites are no longer just for booking tickets, they're for booking travel experiences."
Call for closer collaboration
While Jetstar Asia's customer-centric approach is proving to be effective, Pasupathi explained that the airline, and the wider industry, still faces challenges, and tackling them requires more effective collaboration. Among the challenges is to create the most seamless end-to-end experience possible, and while Jetstar Asia is doing everything it can to rise to this challenge, other stakeholders have a role to play.
Governments must be brought into the mix, he said, while "we need to change the mindset of the ground handlers", to have them walking around the terminal with iPads to solve problems as they arise, for instance, instead of just being based at the front of a queue and behind a counter.
As Pasupathi suggested, there is always room for improvement and Jetstar Asia is as motivated as ever to continue to better its offer. Great news for travellers, but perhaps a daunting thought for its rivals who are under equal pressure to cater to the rising demands and expectations of the new generation traveller.