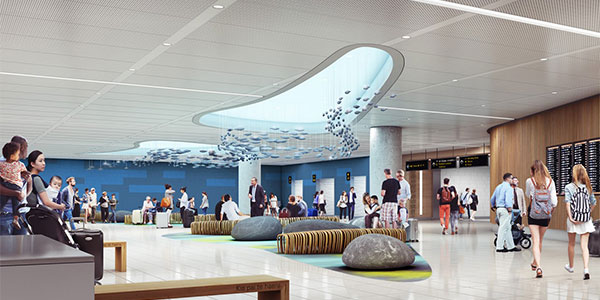 Auckland Airport has revealed details of the planned major upgrade to its international departure area. The renovation will see a new and expanded security screening and processing area introduced, the reconfiguration of the landside farewell area and the introduction of a new passenger lounge and retail hub. The airport has also stated that it is working closely with the New Zealand government's border agencies to ensure the new customs and security screening areas make use of the latest technologies to secure and simplify the travel experience.
The works form part of the wider "Airport of the Future" project, which will eventually see Auckland Airport able to handle 40 million annual passengers by 2040. This figure compares to just shy of 16 million in 2015.
Adrian Littlewood, Chief Executive of FTE Asia Award-winning Auckland Airport, said: "This expansion project is the next step in the development of our combined domestic and international terminal, which will provide a great customer experience and ensure the airport can both accommodate the changing nature of international travel and our strong growth in passenger numbers."
Littlewood explained that the project will place an emphasis on ensuring the terminal reflects New Zealand as a destination. "The design of the new international departure area will be influenced by a journey from New Zealand's sea to sky and focuses on New Zealand's natural beauty and our cultural heritage," he said. "The area has been designed by American architects, Gensler, in partnership with New Zealand architects, Jasmax. Together they bring both international experience and local knowledge to the project.
"One of our clear requirements was that the design be intuitive and user friendly to ensure a great passenger experience. As a result, there will be a range of different seating zones, a kids play zone, lots of natural light and views of the airfield."
The construction of the new international departure area is scheduled to be complete in 2018 and the airport will remain fully operational throughout the project.