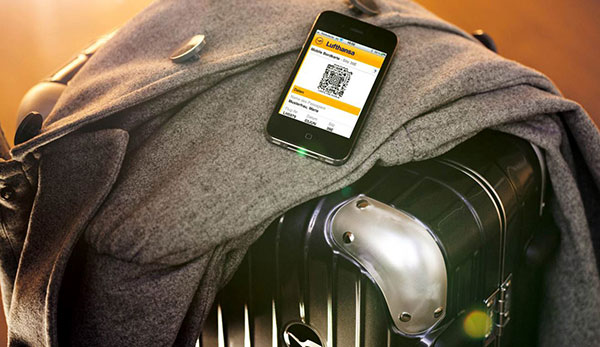 Baggage mishandling has long been a thorn in the side of the airline industry and while big improvements have been made in recent years – SITA's 2015 Baggage Report highlighted a 61.3% reduction in the mishandled bags rate since 2007 ­– there is still a long way to go to completely ease the anxiety passengers feel while waiting at the baggage reclaim belt.
New products, such as baggage trackers and permanent electronic bag tags, have raised hopes that baggage handling can be further optimised in 2016 and one airline in particular is making a concerted effort in this space.
The launch customer of the RIMOWA Electronic Tag – the first fully integrated mobility solution for luggage, which features an embedded digital bag tag that can be updated using a smartphone ­– Lufthansa has also introduced home-printed bag tags, mobile baggage receipts as well as a mobile baggage tracker. There is more to come this year, such as baggage belt and delivery time notifications, mobile lost & found services, and instant compensation as part of a wide reaching effort to empower passengers and improve the baggage experience.
As Dr. Björn Becker, Lufthansa's Director Product Management, Airport & Passenger Services, revealed to FTE the airline's app is the central service point for all new baggage functions, and further inventive projects are planned for 2016.
The mobile lost & found is essentially a mobile version of the delayed baggage report passengers need to fill out at airport lost & found counters if their hold luggage has been mishandled. If a passenger's bag is misrouted, they will receive a notification on their mobile device via the app, SMS or email upon arrival informing them that their bag was not loaded onto the aircraft. If the bag is already en-route the passenger will be informed. If not, Lufthansa will provide a link to a mostly pre-filled report, which the passenger can quickly complete by providing details of where they would like their bag to be delivered to when it arrives. As Becker explained, the service has been introduced to save passengers from needlessly waiting at the baggage reclaim belt and then queuing at the lost & found counter.
Touchless bag drop
In 2016, Lufthansa will roll out more baggage innovations, including a "touchless bag drop" system, which will be introduced at the carrier's German hub airports. "Touchless bag drop means that you can drop your bag at a self-service machine with only minor interaction," Becker explained.
"Most of the steps you have to process today will be eliminated – you just place your bag on the machine and everything else is done automatically based on RFID, barcodes and the info on your pre-filled bag tag. Compared to classic bag drop machines you can reduce the necessary process steps from the passenger to nearly zero and reduce the processing time by <70%."
This will be achieved by simplifying the bag drop process for passengers who arrive at the airport with their bags pre-tagged with either a home-printed bag tag or the RIMOWA Electronic Tag. When they place their bag on the bag drop unit, it will be automatically identified by the bag drop machine, and the bag will be matched with the Passenger Name Record (PNR) and weighed. If everything is in order, the passenger will then receive a mobile baggage receipt via the Lufthansa app. As Becker explained: "There is hardly any interaction necessary."
Instant Compensation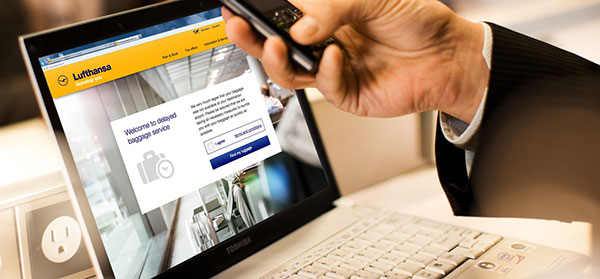 Instant Compensation will also be introduced later this year to simplify the process of applying for compensation if something goes wrong during the journey. "Instant Compensation means that we will turn around the compensation philosophy that most airlines still have," Becker stated. "From applying for compensation by letter or email and waiting days until your money is there, to instant compensation on a website with only a few plausibility and fraud checks to be undertaken, and also new compensation methods."
Optimising baggage handling and improving the response to mishandling incidents is a seemingly never-ending focus for all airlines, and Becker explained that Lufthansa's investments in this space are geared towards providing passengers with everything they need to simplify the travel experience and reduce any baggage-related stress. "With these new services the Lufthansa passenger will experience a next level baggage service, starting with very fast and easy baggage drop off, 100% assistance and information on their mobile, and easy service recovery in case of mishandling," he said. "We have especially focused on a thought through integration of all our touch-points at the airports, in the LH app and in our phone service centres, so that passengers have an integrated experience regardless of the channel they choose."
In an ideal world, travellers wouldn't have to worry about their bags being mishandled, but until the industry finds a solution Lufthansa is doing everything in its power to reduce the impact and inconvenience of misrouted baggage.