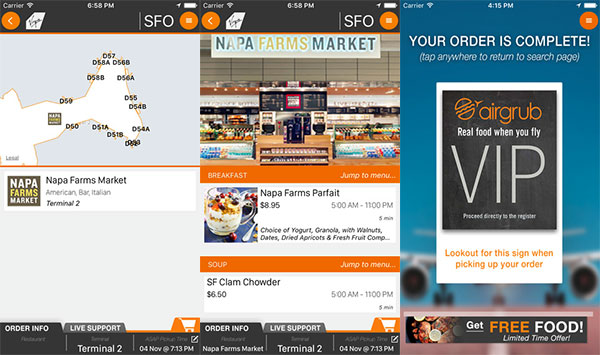 Ordering food via an app for collection at the airport is a growing trend among travellers who don't fancy waiting in line to place their order at airport food and beverage (F&B) outlets. Tapping into this trend, Airports Council International-North America (ACI-NA) has now partnered with one such app.
The app in question is AirGrub, which can already be used by passengers flying from San Francisco International Airport, Boston Logan International Airport and John F. Kennedy International Airport.
Travellers can use the app to place F&B orders and make payments either before arriving at the airport or once they are in the terminal, and the orders will then be prepared and made available for collection from an AirGrub VIP location in the terminal.
Commenting on the partnership, Kevin M. Burke, ACI-NA President & CEO, said: "Airports have found great success in deploying technology to enhance the passenger experience. AirGrub is one more tool that allows passengers to take full advantage of what airports have to offer."
AirGrub is not the only app at the forefront of the mobile-based F&B ordering trend. Another app, Grab, is currently available at Hartsfield-Jackson Atlanta International Airport and Austin-Bergstrom International Airport, while a further 15 US airports are listed as "coming soon" on the company's website, further highlighting the growing demand for app-based F&B ordering and payment.