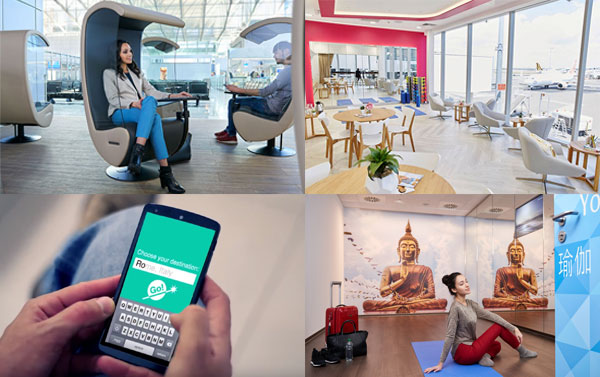 The airport experience can be the most stressful element of the end-to-end air travel journey and while a raft of technologies – from biometric-enabled self-service to robotics – have emerged as viable solutions to help ease the terminal experience for passengers, airports are also embracing 'softer' passenger-focused initiatives in an attempt to help travellers relax, keep them entertained and provide an element of escapism from the busy terminal environment.
Fraport, owner and operator of Frankfurt Airport, serves as a great example. The German hub airport is making a concerted effort to help its millions of transit passengers avoid any airport-related anxiety. To this end, in January 2016 two free to access yoga rooms were opened – one each in Terminals 1 and 2 – complete with equipment and video tutorials. At the same time, "silent chairs" were installed in both terminals. These help to block out ambient noise, providing a more private space where travellers can escape their surroundings and even synch their smartphone with the in-built speakers, so they can listen to their own music while waiting.
Promoting passenger wellbeing
Frankfurt Airport certainly isn't the first airport to offer yoga rooms to passengers; it is becoming a more common trend. Chicago O'Hare and Helsinki airports also offer yoga facilities, and back in December Sydney Airport announced that it had teamed up with Australian activewear brand Lorna Jane to open the Active Living Room in the T2 Domestic terminal.
Here, passengers can take part in yoga and strength sessions and enjoy a healthy snack before or after their flight. Sydney Airport's Glyn Williams, General Manager, Retail, said the new facility was introduced to give passengers "an opportunity to experience a greater sense of wellbeing within the airport environment".
Keeping travellers entertained
Airports' efforts to keep passengers occupied and relaxed in the terminal go beyond helping them keep active – digital entertainment is another area of focus that is receiving more attention. Last month, Portland International Airport announced plans to open a mini cinema, which will launch in the spring and screen works by local filmmakers. Meanwhile, in the UK, Manchester Airport has been trialling an online platform with Wand Technology, which provides passengers access to targeted content, travel guides and destination reviews on their smartphones and tablets while waiting in the departure hall. Instead of sitting and staring for the flight status to change from "please wait" to "now boarding", passengers can put the time to good use by researching their destination.
Elsewhere, GMR Hyderabad International Airport Limited (GHIAL) has also recognised the potential of offering content to passengers in the terminal. The operator of Rajiv Gandhi International Airport has teamed up with Mumbai-based startup Fropcorn to install an entertainment Wi-Fi hotspot near the security area in the domestic terminal. Travellers who have downloaded the Fropcorn app can connect to the hotspot and purchase and download movies to watch both in the terminal and in-flight. The benefits are win-win: a better customer experience and a new revenue stream for the airport.
SGK Kishore, CEO of GMR Hyderabad International Airport Limited (GHIAL), said: "We understand entertainment is a great way to keep passengers engaged on the flight journey as they have limited or no entertainment options." The entertainment service, he said, will provide a "wow" factor that can help to differentiate the airport experience.
And it is exactly this "wow" factor that can make all the difference to passengers. From practicing yoga to watching movies to exploring your destination, each of these initiatives can help to make a potentially stressful experience more relaxing and enjoyable. Moreover, unlike premium lounges and the perks that come with them, these solutions can benefit travellers of all types, regardless of travel class – something that the vast majority of travellers will undoubtedly appreciate.