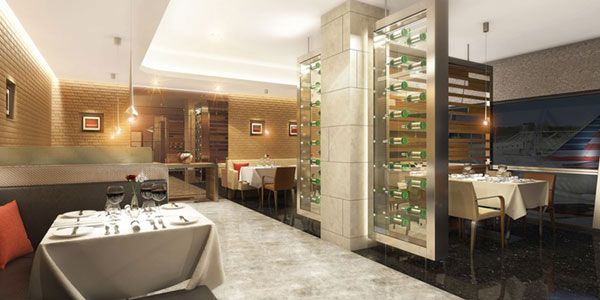 American Airlines announced its biggest ever airport lounge upgrade programme last year and now the carrier has revealed more specific details, including the introduction of a Flagship Dining experience for premium passengers.
Described as "a one-of-a-kind, pre-flight meal with full tableside service and elegant dining", the lavish airport dining experience will be offered at New York's John F. Kennedy, Dallas/Fort Worth International, Los Angeles International and Miami International airports, each of which are served by American's three-class Boeing 777-300ER. Flagship Dining will be rolled out in 2017, with JFK Airport the first to receive the service, which will initially be available exclusively to First Class customers travelling on three-class international and transcontinental flights.
Andrew Nocella, American Airlines' Chief Marketing Officer, said: "Flagship Dining is something no other US carrier has offered, and this separates us from the competition. It makes American a clear choice for the customer who expects a refined, personal touch when they fly."
The carrier's Vice President – Global Marketing, Fernand Fernandez, added: "We want our customers to have a luxurious escape no matter the reason for their trip. Our goal is to deliver chef-driven creations and local flavours, giving customers a five-star restaurant experience when they travel."
As part of its on-going lounge upgrade programme, American Airlines is refreshing its Flagship Lounges at JFK, Los Angeles International and Chicago O'Hare International airports, while the Flagship Lounge will also debut at Dallas/Fort Worth International, Miami International and Philadelphia International airports. Admirals Club Lounges will also be added at Houston's George Bush Intercontinental Airport and Orlando International Airport.