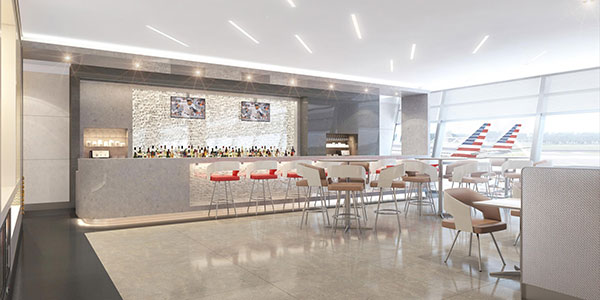 American Airlines has announced that it is beginning the "most expansive lounge makeover programme in the airline's history", starting with the Admirals Club lounges at Phoenix Sky Harbor International and São Paulo International airports.
The renovation programme is expected to last a number of years and will ensure passengers are offered a consistent experience in all of the carrier's airport lounges. Staff will greet guests from a modern check-in podium and custom-made furniture will be introduced, including communal tables and high-backed chairs with power outlets and USB ports, and destination-based artwork will be used to give each lounge a sense of place. All other elements of the lounges will also be overhauled, from the décor and restrooms, to the food and beverage offer.
The investment in upgrading the lounges is part of the on-going $2 billion investment in improving the customer experience, and comes just weeks after another legacy US carrier, United Airlines, announced major upgrades to its own Club lounges.
Fernand Fernandez, American Airlines' Vice President – Global Marketing, said: "In the future, when our customers see an Admirals Club sign anywhere in the world, they'll know they'll find a reliable, modern space where they can charge their devices, grab a bite to eat, get caught up on work or unplug from the world around them. Our goal is to create spaces that are more in line with how people live and spend their time today."
In addition to the renovation of existing lounges, American Airlines will also start construction on lounges in Miami, New York (JFK), Dallas/Fort Worth and Los Angeles later in 2015.