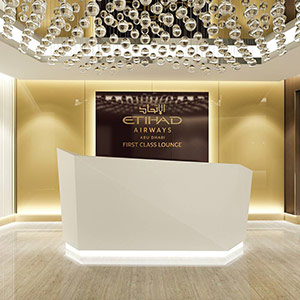 Etihad Airways has announced that it will open a new luxurious lounge for First Class passengers at Abu Dhabi International Airport, which it says will be the "jewel in the crown" of its lavish collection of premium airport lounges.
The First Class Lounge in Abu Dhabi International Airport's Terminal 3 will open in May 2016 and will be open to First Class passengers, Etihad Guest Platinum and Etihad Airways Partners Platinum guests, as well as those flying in the "The Residence" on board its A380s.
Peter Baumgartner, Etihad Airways' Chief Commercial Officer, explained: "The new First Class Lounge in Abu Dhabi will be the jewel in the crown of our ever-growing global lounge portfolio, a showcase of intelligent design and innovation, and the world's best premium airport experience.
"We are confident that it will deliver a product and service which is as highly acclaimed as it is inflight and look forward to unveiling its many unique features with great pride."
The First Class Lounge will be Etihad Airways' fourth high-end lounge at its home hub airport, joining the Premium Lounges in Terminals 1 and 3, and the Arrivals Lounge in Terminal 3.