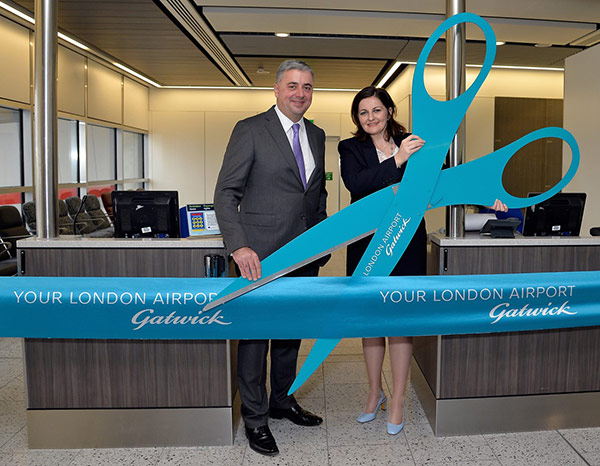 Gatwick Airport has opened the redeveloped Pier 5 in North Terminal, which forms a significant part of the airport's on-going £2 billion transformation programme.
The £80 million (€106m; $115m) project has allowed for arriving and departing passengers to be vertically separated over two levels to simplify passenger flow, while the gate rooms have been expanded and a "London Square" theme introduced throughout to help reflect London as a destination.
The new pier, which has also seen the number of aircraft stands increased, will allow Gatwick Airport to handle an additional 30 flights per day.
Stewart Wingate, CEO of Gatwick Airport, said: "Since coming into private ownership six years ago, we have invested more than £1 billion in transforming and growing Gatwick and, to accommodate our growth, we are set to invest another billion."
He explained that the investment is vital to supporting Gatwick's growth, which has seen passenger numbers increase for 34 success months. "To keep pace with this unprecedented growth, we need to be smart about how we work with our existing infrastructure while we wait for a Government decision on airport expansion," Wingate added. "Our investment programme is all about driving that growth, and Pier 5 will be a significant contributor, allowing us to handle greater volumes of aircraft and passengers."