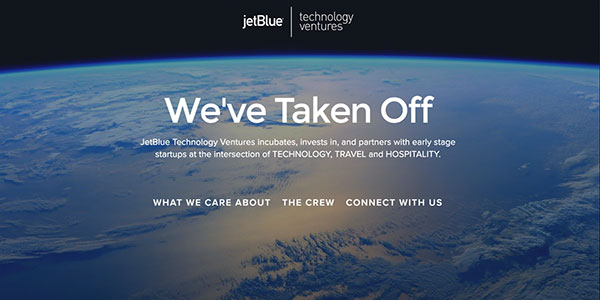 JetBlue, which has established a reputation for achieving industry firsts since its first flight 16 years ago, has now made a significant statement of intent to define the future travel experience with the launch of JetBlue Technology Ventures, the first US airline-backed corporate venture capital subsidiary in Silicon Valley.
The carrier has revealed that the wholly owned subsidiary will "invest in, incubate and partner with early stage startups at the intersection of technology, travel and hospitality" and will play an important role in the airline's efforts to "shape the future travel experience".
JetBlue Technology Ventures will partner with incubators, venture capital firms, universities and other organisations inside and outside Silicon Valley, and build relationships with a range of startups across the travel and hospitality spectrum, with the aim of serving as a launch pad for innovations that improve customer and crew experiences, increase the airline's operational efficiency and expand the JetBlue brand to new markets.
Specific details are, as you would expect at this stage, few and far between, but the JetBlue Technology Ventures website gives a few clues as to what sort of projects and companies it could work with. On the "what we care about" page of the website, the Internet of Things, artificial intelligence, big data, predictive analytics, virtual reality and machine learning are all mentioned as technologies of interest.
The website states: "JetBlue is a company known for award winning customer service, delivered by helpful and friendly crewmembers. Future technologies to power seamless customer and crewmember interactions across the entire digital and physical travel experience include personalisation, geolocation, customisation, messaging, virtual reality, improved tools for our crewmembers to deliver magnificent service or enhanced ways to extend the JetBlue brand and culture." It also envisages a "travel experience free of bag tags, tickets, lines and instead a connected world that anticipates customer needs".
Bonny Simi, who will head up JetBlue Technology Ventures, said: "Innovation has always been part of JetBlue's DNA, and JetBlue Technology Ventures builds on our history of staying a step ahead of the status quo. We will be casting a wide net to find technologies across the travel spectrum that further the award winning customer-focused experience we are known for.
"The work being done today in the startup community will define travel for years to come. We can offer our knowledge and resources to bring early-stage ideas to life. We won't limit our thinking to traditional airline operations, and instead consider possibilities at every stage in the travel experience."