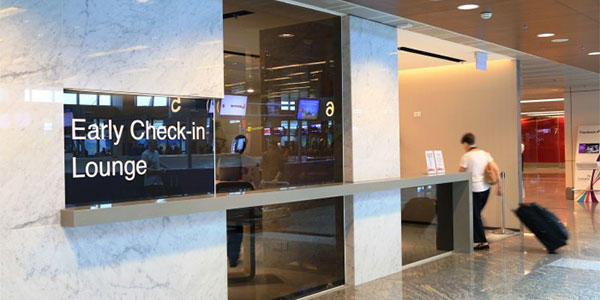 Travellers flying from Singapore Changi Airport can now check-in their hold luggage a number of hours before their flight at dedicated common use early check-in counters in Terminals 2 and 3 and an early check-in lounge in Terminal 1.
While a number of carriers serving Singapore offer their own early check-in services, the new common use early check-in facilities can be used by passengers flying with any of the 23 participating airlines. The service will be especially useful for those who have to check out of their hotel in the morning but are not flying until the evening.
How far in advance you can check-in differs from airline to airline. For instance, Air France offers check-in four hours in advance of departure, whereas Singapore Airlines' passengers can check-in up to 48 hours before their flight. The full list of participating airlines can be found here.
Explaining the decision to introduce the common use check-in facilities, Albert Lim, Vice President for Passenger Experience, Changi Airport Group, said: "Early check-in smoothens the flow of passengers beyond the peak period, which starts about two hours before the scheduled time of departure. Reducing the peak load shortens queues and lessens the stress of the check-in team.
"Overall, there is a better travel experience for passengers. At the same time, it allows for more optimal utilisation of check-in resources, resulting in capacity and productivity gains." Lim added: "We want to give passengers the flexibility to design their own travel experiences by making early check-in easier and more readily available."