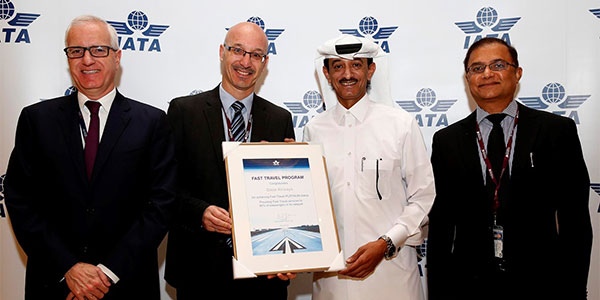 Qatar Airways has become the first airline in the Middle East to achieve Fast Travel Platinum Status in recognition of its widespread deployment of self-service technology to help expedite the travel experience.
The carrier has been recognised for its efforts in six key areas covered by the Fast Travel programme; check-in, bags ready-to-go, document check, flight rebooking, self-boarding and bag recovery. It becomes just the sixth airline to achieve Platinum Status, which is awarded to carriers that offer each of the six self-service options to more than 80% of passengers across their network.
The Doha-based carrier has rolled out a number of products and services over the past few years, including kiosk check-in, self-service bag drop, home-printed bag tags and online reporting of misrouted bags.
Qatar Airways Group Chief Executive, Akbar Al Baker, stated: "This is a significant achievement for the airline and furthers our ambition to redefine the passenger experience." He continued: "Passenger needs are at the heart of our service design, and we want to provide all of our guests with the very best travel experience. For those passengers who are comfortable using technology, Qatar Airways has provided the opportunity to self-serve, giving them the control and flexibility that they desire throughout their journey with us."
IATA's Senior Vice President for Airport, Passenger, Cargo and Security, Nick Careen, highlighted the importance of airlines' investments in self-service technology. "According to industry surveys, over 50% of passengers want to speed up their air travel experience and around 75 per cent of passengers worldwide want more self-service options," he explained. "Ultimately, by providing more choice and more control for passengers, airlines can achieve lower costs and billions of dollars in annual savings for the industry."