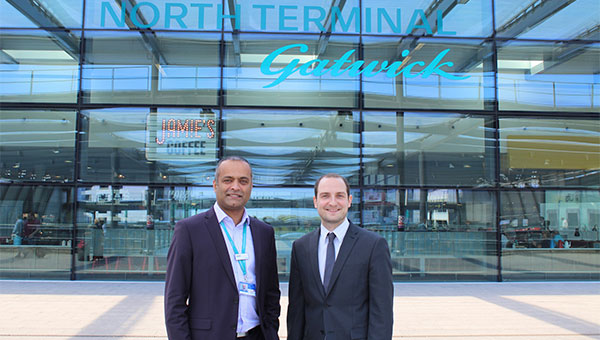 The nature of airports – hosting multiple airline customers, hundreds of stakeholders, thousands of members of staff, and ever-increasing volumes of passengers – makes for a fragmented environment. Ensuring everyone knows what is happening and what to expect next at any given time is a huge task for any airport, let alone an international airport serving more than 43 million passengers a year. The lack of ability to effectively share data in real time is often singled out as perhaps the biggest obstacle to a more seamless travel experience.
Like many others, Gatwick Airport relied on SMS messaging to try to keep all stakeholders updated on the latest developments across the airport site. However, this changed recently with the introduction of the Airport Community app, borne from a belief that there must be a better alternative. Well, that and an "embarrassing" situation for the airport's Head of IT Commercial, Abhi Chacko.
"The trigger was actually a passenger coming up to me and asking me something about his flight," Chacko recalls to FTE. "He thought I should know the answer to his question because I was wearing an ID badge, but I didn't know the answer. Not being able to help that passenger was the trigger for the app."
Determined to ensure he and his colleagues didn't face similar situations in the future, Chacko came up with the idea of creating a single app for all stakeholders on the airport site. In an industry known for often being slow moving, especially where the sharing of data is involved, Chacko, with support from his "tech savvy executive team" and AirportLabs, wasted no time in making the app a reality and it is now being used by more than 3,000 on-site staff. Everyone who uses the app has a plethora of useful, real-time data at their fingertips. Airlines' on-time departure data, ground handlers' performance, aircraft turn times, and hourly passenger departure and arrival numbers provide just a handful of examples.
If employees on the airport campus need to be made aware of a situation that may cause, or is already causing, disruption to normal operations, they can be immediately notified via the app. Furthermore, they can also check weather information and real-time traffic and train updates before starting their own commute to or from work. And of course, if a passenger approaches a member of staff with a question about their flight, they can turn to the app to find the answer.
"As we used to use regular SMS for notifications, even at night you would receive updates, even if it was to say everything was fine," Chacko explained. "You either received all updates or you had to unsubscribe from all of them. With the app, you can tailor the alerts so you only receive those that are relevant to your job."
Cost was also a factor in this move away from a reliance on SMS. "We were spending £150,000 per annum on SMS messaging," Chacko explained. "The app helps staff, improves passenger experience, reduces costs and even helps us sleep better at night!"
'The app helps employees become heroes'
The fact that 3,000 people have already downloaded the app and are using it to assist them in their various jobs across the airport is evidence of the value of putting information in the palms of employees' hands. "People who work on the airport feel an affinity to the airport and passengers," Chacko said. "We have 3,000 people on the airport campus using it without any mandate or financial incentive. Apart from Gatwick's own employees which form about 40% of the user base, people employed by 200 other business entities use the app, including captains, cabin crew, airline staff, ground handlers, concessionaires, retailers, police, immigration staff, cleaners, in-flight catering staff, train station staff, nearby hotel staff, etc. They are using the app because it benefits them and helps them do their job better. They can be in tune with the airport and they can become a better passenger host."
Chacko went as far as to say that the app "helps employees become heroes". This may sound like a bold claim, but when FTE spoke to David Gittins, Gatwick Airport's Manager of Contracts, he very much proved Chacko's point. "Recently I was flying out of Gatwick to Nice and I was departing from Gate 45, which is at the extreme end of Pier 4. There was a guy walking around looking terribly lost and he told me he was looking for his easyJet flight to Alicante. I whipped out my phone, very quickly looked up where the 07.45 flight to Alicante was departing from, and I was able to quickly direct him to the right gate. If I hadn't been able to do that he would have had to go right back to the departure lounge to look at the screens and there's every chance he'd have missed his flight. If we can help people out like that, that's really superb."
Multi-stakeholder benefits
Clearly, the app is having a positive impact on Gatwick's own staff, but what about the other stakeholders? After all, this is supposed to be an app for the wider Gatwick community. Tim Graham, Senior Manager – Integration, Development and Innovation, Virgin Atlantic Airways, told FTE that he sees the app as a "great service from Gatwick". "Having access to information about the operation is particularly valuable to our airport operations team and ground staff, who not only get an insight into things that are affecting Virgin Atlantic operations at Gatwick, but across the whole of the airport. For example, we have connecting passengers coming in on other flights, so it's valuable for the ground staff teams to know what's happening across the whole operation."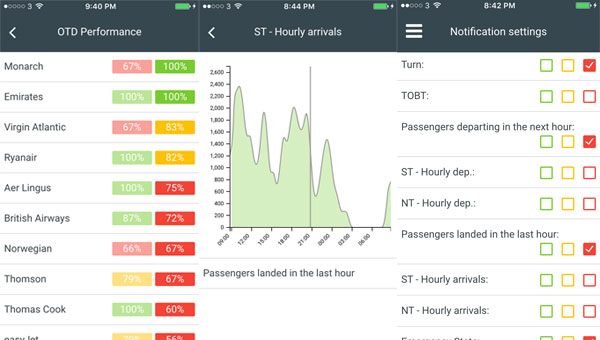 Graham explained that he is in favour of the airport making information such as real-time operational and on-time departure data easily accessible to all airport stakeholders via the app. "In the spirit of openness and the true community spirit at Gatwick, why shouldn't airlines more readily share information like that when it is already in the public domain?" he said. "At the end of the day we're all serving the customer, and that could be a customer of multiple airlines. Encouraging airlines to work together in this community model is a great opportunity."
easyJet's Graeme MacLeod, Head of Terminal Consolidation, also told FTE that he uses the app on a day to day basis, "particularly since the performance data came through so we can see how the whole airfield is running and also how the easyJet operations are running".
MacLeod explained that the push notifications around incidents that may be affecting service have proved to be a useful addition. "We're now in the process of setting up our own channel so we can broadcast to easyJet staff and our handlers the real-time status of our operations from within the app," he revealed.
Creating healthy competition
Not only is the app helping to drive operational efficiency, it is also promoting healthy competition. No airline wants to be towards the bottom of the on-time departure ranking, and equally no ground handler wants to be bottom of their league table. As Rebecca Platts, Project Director at ground handler Menzies Aviation, explained, "frankly we want to be number one" and knowing that all stakeholders can easily view a real-time ground handlers performance table adds extra motivation.
At present, Menzies' staff at Gatwick Airport have access to the Airport Community app on their personal devices, but plans are in place to make it available to all company-owned handheld devices used by its airfield staff. Detailing the benefits of the app, she explained: "Whilst we've got lots of different computer systems and fairly sophisticated interactions between our systems and airport systems, actually as soon as you leave the office you're a bit blind. Even now in some areas we have people out with printed lists of flight schedules and unless someone radios you, you may not be aware of any changes that have happened. The app makes it easier to access the latest information. It's a huge opportunity to know we've got full awareness of what's going on in the airport. Also, it presents a big opportunity from a customer service perspective, because our staff know that they have the very latest information on what's going on across the airport."
Promoting data sharing and creating a new industry trend
The information contained in the Airport Community app is already proving to be a huge help for those already using it, but Chacko told FTE that it is only at 25% of its full capability, and various new functions will be added in the coming months. With this in mind, this is by no means the finished product, but Chacko admitted that he feels a sense of pride at what the app has achieved to date.
"This started as an experiment more than anything to see if this would be accepted by the community and adopted by the industry," he said. "I'm very proud to have played a part in creating a new industry trend. An airport campus is a fragmented and fluid environment, but the Airport Community app can be a unifying force.
"My approach, I guess, is a socialistic approach – some people call me a data socialist. I don't believe in concentrating useful data in the hands of a few. Unleashing it helps business performance. In a way, this app has flattened the hierarchy and broken down barriers – a baggage handler on the ramp can access exactly the same information on the app as the airport senior management. That's pretty powerful."
This socialistic approach means Chacko has no desire to contain the benefits of the app to the boundaries of Gatwick Airport. From day one, the project with AirportLabs has been about creating a multi-airport app; in fact a handful of other airports have already signed up to adopt the Airport Community app themselves having seen the positive impact it has had at Gatwick Airport.
What started with an embarrassing encounter has resulted in the development of an app that can benefit every stakeholder on the airport campus. Anyone still unconvinced by the value of sharing data and information should take a very close look at the Airport Community app.