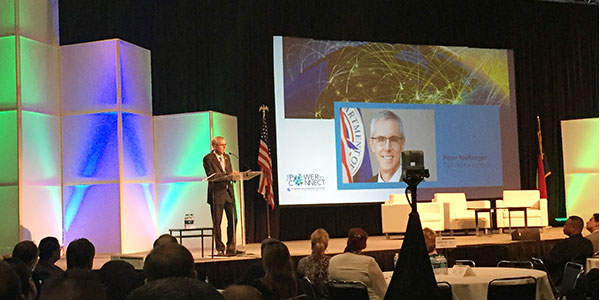 Days after the Transportation Security Administration (TSA) was again the focus of negative headlines, this time due to huge queues at Chicago's Midway and O'Hare airports, TSA Administrator Peter Neffenger has assured airports across the United States that he will do everything in his power to get to the bottom of the issues and kick-start a much-needed transformation of TSA operations.
Neffenger, who was Vice Commandant of the U.S. Coast Guard prior to taking up his role with the TSA in June 2015, is a recognised expert in crisis management and could be exactly what the TSA needs as it seeks to cut waiting times and improve service quality while maintaining the highest levels of security across the US airport system.
Speaking this week at the AAAE Annual Conference & Exposition in Houston, Texas, Neffenger told those in attendance "I don't want to apologise for doing our job well", but conceded that the TSA must address the tensions that are "creating problems for travellers".
He admitted that the situation in Chicago has been "a great concern" and vowed to "find out what happened and fix it". In fact, following his speech, it was announced that Chicago will get 58 more TSA screeners in the coming weeks, 250 more by mid-August, and 100 TSA screeners will shift from part-time to full-time hours.
Beyond Chicago, Neffenger explained that he is serious about ensuring the TSA is not seen as an "impediment to the industry". The mounting pressure on the TSA was further highlighted earlier this month in a letter from the Port Authority of New York & New Jersey, in which the operator of JFK International, Newark Liberty International and LaGuardia airports said it "can no longer tolerate the continuing inadequacy of TSA passenger screening services".
"We do a very important job," Neffenger told attendees in Houston, "but we must establish how we can manage the system in a way that prevents large crowds from gathering."
Taking inspiration from Europe
Keen to highlight the fact that these aren't just hollow words, Neffenger revealed the TSA is taking inspiration from European airports such as Amsterdam Airport Schiphol, where a "security as a service" approach has been adopted. While the screening process must not be compromised, the way checkpoints work will be addressed, he said. "At the moment, we're using a model that's the same as we've used for the last two decades," he said. "Some of the technology is newer, but the idea is the same."
Automated conveyor belts, automatic tray return systems and lanes with multiple divestment points that allow five or six passengers to concurrently divest their items ahead of the screening process are being given serious consideration, following their success in cutting queuing times at multiple European airports. Neffenger revealed that a pilot project will soon be launched, perhaps before the end of this month, to test the effectiveness of some of these solutions at two security lanes at Hartsfield-Jackson Atlanta International Airport.
He also said the TSA is placing a big focus on training, to address concerns that there are inconsistencies in the current model, while staffing models are being examined on an airport by airport basis to ensure future improvements are tailored to the specific airport in question. Another area being explored is the positioning of the pre-screening ID checkpoints. The TSA is looking into the possibility of having this check undertaken at an earlier stage of the process to help ease the bottleneck at the entrance to the screening lanes.
'We can't do this alone'
Notably, the TSA Administrator admitted: "We realise we can't do this by ourselves. I believe in looking at true partnership – we realise we can't come up with all the solutions on our own." He added: "My experience with the Coast Guard taught me that what works well is collaborating with the industry to understand their concerns."
On this front, the TSA has already been working with AAAE and ACI on a widespread assessment of airport security, and Neffenger thanked the associations and the airports themselves for providing detailed information and suggestions as part of this effort. "Our goal is not to use this to create more regulation for the industry, but to look for best practice and work out how we can apply that across the industry," he said. He also revealed the TSA is "looking for opportunities and incentives for the private sector to be more involved in this".
This willingness to collaborate, and to listen to and act upon the concerns of the airports, is a very welcome approach. As airports continue to invest in creating more seamless experiences for travellers, it is only right that the TSA gives them the opportunity to help identify and drive improvements at the most stressful airport touch point of all. Neffenger is absolutely right that the TSA does a very important job, but now it must ensure it finds a way to complement robust security with a more acceptable level of customer service, starting with addressing waiting times. The newly formed Innovation Task Force should help to keep this at the forefront of the TSA's thinking.
Having listened to Neffenger's speech in person, he appeared both determined and genuine. At the top of the organisation there seems to be a welcome acceptance that the TSA has a broader responsibility beyond ensuring the safety of travellers. Of course, security is, and always will be, its number one priority, but it must also work with airports and other stakeholders to better manage queues and improve service levels.
There is a long way to go before all the problems are solved, but there seems to be a sincere will to make things better. Only time will tell if these good intentions translate into tangible improvements across US airports.