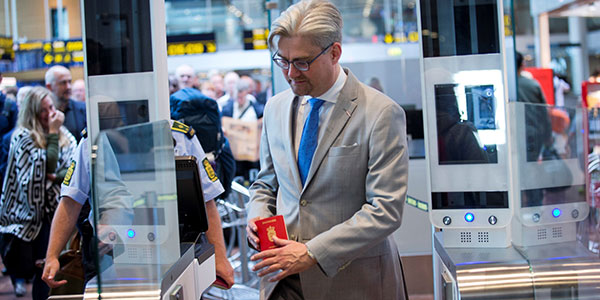 Nine new automated passport control e-gates have been installed at Copenhagen Airport to automate the border control process for travellers flying to destinations outside of the Schengen area.
The e-gates in Pier C make use of facial recognition technology and they remove the need for police/border control agents to manually check the passports of departing international travellers, although agents are always on hand to monitor activity at the e-gates.
Thomas Woldbye, CEO of Copenhagen Airports, explained that the e-gates will help the airport cope with increasing passengers numbers.
"Experience shows that do-it-yourself passengers are happy passengers and therefore we expect that the automated passport control will enhance the passenger experience at the airport," he stated.
The automated passport control e-gates can be used by European Union citizens aged 18 or over, while four new manual passport control booths have been introduced for non-EU citizens and those without e-passports.