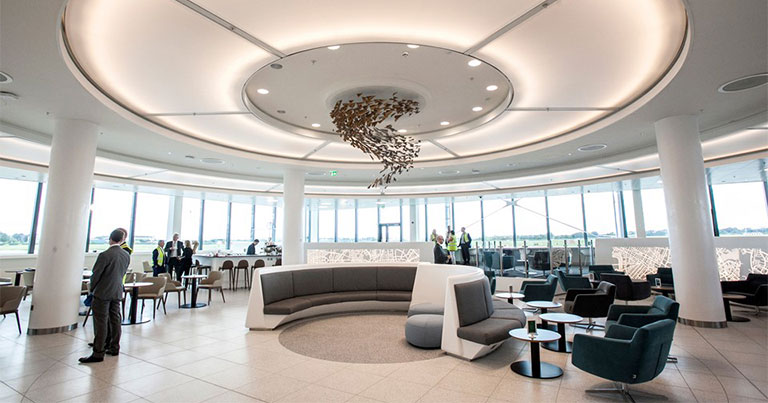 Dublin Airport has opened a new lounge, called '51st&Green', for premium passengers travelling between Ireland and the United States.
The lounge, which is located after US Preclearance in Terminal 2, aims to reflect the theme of connecting Ireland and the United States. The lounge measures 750 sqm and has enough seats for 180 people.
There are food and drink options available for guests, along with a concierge service, shower rooms, free Wi-Fi, charging outlets and an entertainment area. Furthermore, Platinum Service travellers have access to a dedicated area.
To access the lounge, travellers must be flying to the US with Delta Air Lines, United Airlines, Aer Lingus or American Airlines, and have a business class ticket and relevant airline club card.
Dublin Airport has said that a record one million people used the US Preclearance facility in 2015, and passenger numbers were up 19% in the first six months of this year with over one million flying to and from destinations in the US during that period.
Vincent Harrison, Dublin Airport's Managing Director, said: "We are delighted to have this post-US Preclearance lounge open for passengers, which is unique as Dublin the only airport outside of North America to offer a lounge facility once the necessary Preclearance checks are completed.
"With four airlines currently flying 276 times to and from 11 destinations in the US on a weekly basis, an average of almost 40 return flights daily, Dublin Airport now ranks 5th among EU airports for route frequency to North America. We have surpassed Madrid and only Heathrow, Paris, Frankfurt and Amsterdam are ahead of Dublin."