There have been a number of interesting developments in the field of airport security and the need for quicker, more seamless processing and baggage checks has led the likes of the Transportation Security Administration (TSA) to explore new security lanes. There have also been significant efforts to improve the accuracy of threat detection. These new technologies not only provide better security, but can also help to enhance the passenger experience.
Screening lanes
The TSA has recently announced that it is working with American Airlines to install new security screening lanes in select US airports. Among the features of these lanes is that the conveyer belts automatically move the carry-on bags through the X-ray scanner. Also, images are captured of the bags and other items before they go through, and these are linked to the X-ray scan, while Radio Frequency Identification (RFID) tags will also be added to the bins for further accountability of the items as they move through the system. Bags that contain potentially threatening items are redirected to one side to allow the flow of passengers and bags to continue. As a result, these lanes can improve passenger experience and security, according to the administration. Elsewhere in the US, Delta Air Lines has also introduced its own 'Innovation Lanes' at its Atlanta hub in a bid to expedite the security process.
TSA spokesperson, Lucy P. Martinez, told FTE: "The automated screening lanes incorporate technology and screening station modifications that enhance security effectiveness while increasing passenger flow through the carry-on property X-ray search by approximately 30%."
She added: "TSA continues to collaborate with vendors, airlines, airports, and across the counter-terrorism community to roll out additional automated checkpoint lanes to improve the screening process as well as help minimise wait times. TSA's long-term goals are to incorporate automated security lanes at applicable locations throughout the country."
Gatwick Airport also recently opened a new security area in the North Terminal as part of its strategy to significantly reduce passenger wait times while maintaining the highest levels of security. The airport's Head of Security, Peter Lederer, said: "This £36 million investment includes 10 new security lanes, each with seven 'loading points', reducing queue times and increasing the number of passengers able to prepare their belongings for the screening process at any one time.
"Passenger security and safety is always our number one priority. Our world-leading security facilities ensure we are in the best possible position to provide this. We also recognise the importance of providing passengers with a swift and comfortable experience when it comes to passing through our security checks."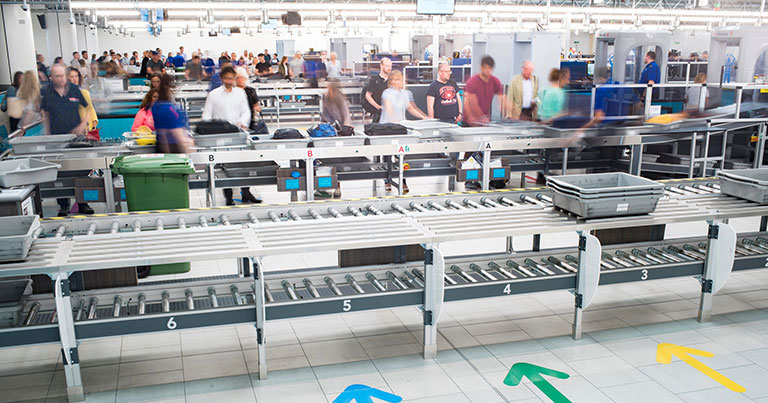 CT scanners
One of the possible solutions for the next generation of airport security screening is computed tomography (CT) scanning – a similar technology to what is used for scans in hospitals. The TSA has already announced that it will be working with American Airlines to bring 3D CT scanning to airports in the US.
Analogic offers a CT scanner called COBRA, which has been available since 2006, while the successor to this, called ConneCT, is currently in the prototype stages. Analogic's Director of Global Sales and Service, Jonathan Stone, described to FTE the key benefits of CT technology: "The benefit of this product, and with CT technology in general, is that passengers can keep laptops and liquids in the bag when they reach the checkpoint. The equipment maintains or exceeds the detection capability of the existing equipment at checkpoints while keeping those items in the bag, so it's a double benefit."
Another difference between CT scanners and other X-ray scanner solutions is the amount of data they can collect: "The conventional equipment simply doesn't collect as much data as CT equipment. So a spinning source in a relatively similar amount of time will collect much more data about what it's looking at compared to a conventional X-ray, which may have just one, two or three cameras that are taking a photo. So when you have more data about what it is you're looking at, in this case bags, you're simply able to do more things with that data in the same amount of time."
Analogic's current CT system, COBRA, has been tested at Luton Airport, which has recently agreed to permanently install it. The airport currently offers it in a premium lane which can be used at a cost to passengers, and Stone said that the reaction to the product itself has been positive, although some passengers do not want to pay the fee to use this fast track lane. The next stage for CT in terms of global adoption is for it to be tested against the Global Standards Regulations and Stone said that they are confident that Analogic's current and next-generation CT systems will pass those standards. The other hurdle he said was that a lot of airports have already made purchase decisions for conventional X-ray equipment. However, he added that the next wave of technology replacements will happen over the next several years and that is where CT could step in.
All of these advancements are certainly opening the door for a better customer experience, in terms of shortening waiting times and allowing for faster processing through the checkpoint, whilst maintaining the highest levels of security. Passengers flying from some airports are already noticing the difference and it should only be a matter of time until more and more travellers are able to benefit from these welcome developments.