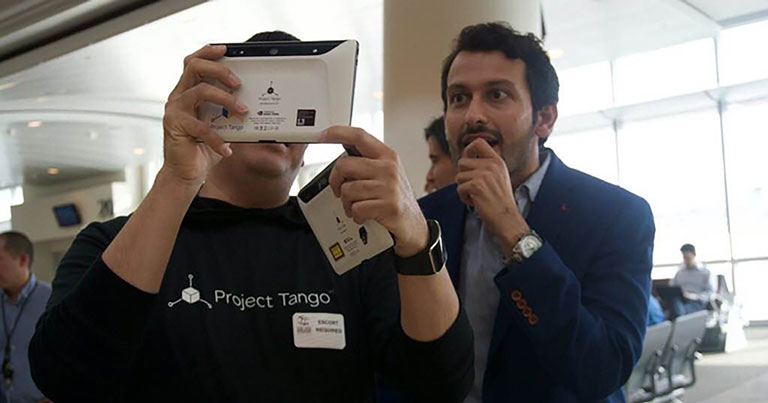 As the airport that serves Silicon Valley, San Jose International Airport prides itself on taking a leadership role when it comes to trialling and implementing new technologies.
The latest project involves a team-up with Google, to test the new 'Tango' technology platform in the terminal. As Jonathan Vaden, who has been leading the project on the airport's behalf, explained to FTE, Tango uses computer vision that gives devices the ability to understand their position relative to the world around them without requiring GPS or other external signals. This creates the possibility of location-based augmented reality (AR) mobile applications that can be precise to within about a centimetre.
The partnership has seen the co-creation of a custom SJC augmented reality app, which was developed by Aisle411 and which has been tested by employees of both Google's Project Tango team and the app developer in secure areas of San Jose International Airport's Terminal B, under the supervision of SJC employees.
AR wayfinding and digital billboards
Earlier this summer, British Airways also became involved in the project, when the first iteration of the app was demoed during the airline's launch of a direct flight between San Jose and London Heathrow. Users of the app were able to use it for wayfinding, to view augmented reality digital billboards displaying destination information outside each departure gate, and to search for retail and F&B options based on their location and time until departure.
The use of augmented reality technology also meant app users could see various 3D images 'floating' around the concessions area. For instance, they could see a 3D shark swimming outside of the Sharks Cage restaurant, view 3D pints of beer floating outside the Brit restaurant, and even see a British Airways aircraft at the departure gate ahead of the flight to London.
Describing some of the benefits of leveraging augmented reality inside the passenger terminal, Vaden said: "The precise nature of the technology will enable simple and unparalleled wayfinding for passengers, right on their own devices. We believe this will provide both an increased level of customer service, as well as the opportunity to increase concessions sales by helping passengers discover nearby shops or restaurants of interest that they otherwise would miss. For example, they will be able to search for a shop or restaurant based on how much time they have available, and then the app can guide them to the selected location with ease."
Google Tango – an AR game-changer?
Google's Tango technology will appear on a consumer device for the first time upon the launch of the Lenovo Phab 2 Pro this September, and Vaden explained that he expects this to kick-start a major shift towards augmented reality.
"We believe many more devices will follow in the ensuing months and years, and we want to be a leader in providing augmented reality content for the inevitably increasing number of passengers who will have that augmented reality capability in their pockets," he said.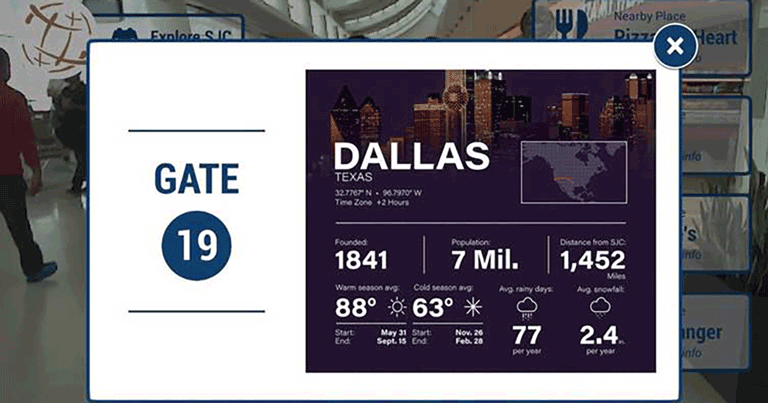 "Once augmented reality technology becomes ubiquitous – and we believe the Tango platform heralds the start of this wave – we will see many new and creative ways in which airports around the world begin taking advantage of its capabilities," Vaden continued. "The key differentiator is that it will no longer be augmented reality just for the sake of novelty, nor will it require special goggles or anything other than the phone already in someone's pocket.
"We anticipate augmented reality functionality simply will become one more tool in the array of resources available to developers to engage and delight passengers in ways we haven't yet considered. As Silicon Valley's airport, we feel it is incumbent upon us to help lead the charge, because so many of our passengers are early adopters who will expect nothing less of us."
With San Jose International Airport currently working with its concession partners to test how augmented reality can be utilised to improve wayfinding and increase concessions sales, it seems that this is only the start of a major trend. It looks like augmented reality technology will play a major role in the airport terminal in the years ahead.