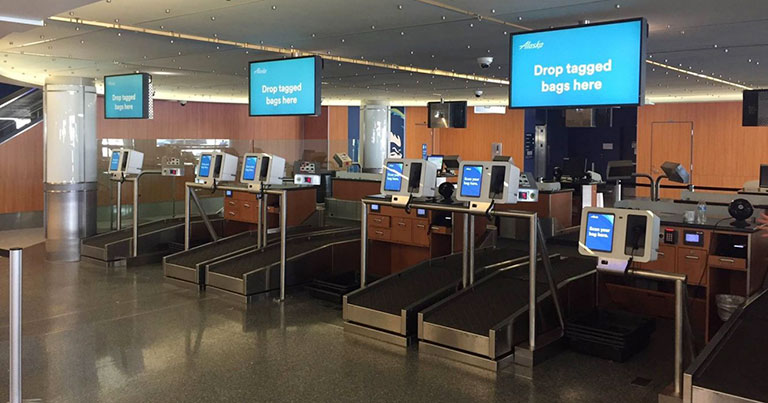 Alaska Airlines has launched a self-service bag drop trial at Los Angeles International Airport (LAX). The 'Scan & Fly' bag drop service allows passengers to check-in their own bags without any assistance from an agent.
Until 10 November, passengers who have checked in via the Alaska Airlines website, mobile app or a self-service kiosk can choose to make use of the do-it-yourself system. Passengers can either print their bag tag at home or at a self-service kiosk and attach it to their luggage before proceeding to the bag drop area.
They then have to show their ID to a customer service agent before moving to one of the six self bag drop lanes. The touch-screen walks customers through a series of simple instructions before the bag is injected into the baggage handling system.
Those who wish to check-in and drop bags with a customer service agent still have the option to do so. At least two agents will also be on hand to offer assistant to passengers who opt for the self-service option.
"This technology will allow customer service agents to interact more with customers one-on-one in the lobby while having the machines complete the technical work of dropping the bags," said Mike Stanley, General Manager of Alaska Airlines Operations at LAX. "We are very excited to be testing this new technology and hope to set a new standard for expediting the check-in process for customers."
Passengers who use the 'Scan & Fly' process will be invited to participate in a survey after they travel, and are encouraged to provide honest feedback about their experience. This feedback will inform next steps and future rollout of the processes.
According to the carrier, early results show that passengers are able to complete the self-service bag drop process in less than 30 seconds.