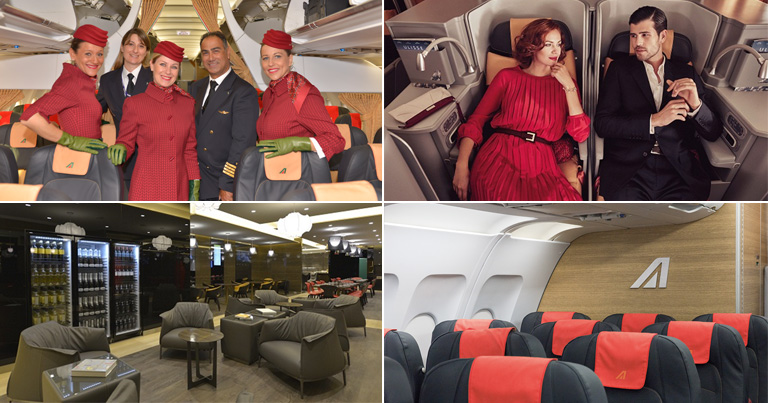 Early last year, Alitalia announced an agreement with Etihad Airways, as the Abu Dhabi-based airline acquired a 49% stake in the Italian carrier. A wide variety of enhancements have since been introduced both on the ground and in the air, each of which has significantly improved Alitalia's product, reputation and popularity among travellers and industry experts alike, as Alitalia's Chief Customer Officer, Aubrey Tiedt, explained to FTE.
Changes in 'every area of the business'
There have been myriad changes at Alitalia in recent months, including the notable introduction of new routes to the likes of Santiago, Mexico City, Beijing and Havana, the installation of new interiors across the fleet, and increases to capacity for domestic services. Furthermore, there are now improved flight connections at Fiumicino airport, new airline branding, and the carrier has also opened two high-end 'Casa Alitalia' lounges at Fiumicino and Milan Malpensa airports.
Staff-focused improvements have been made too, thanks largely to the introduction of new training programmes. In fact, over 8,000 cabin crew members and airport staff have been through customer excellence hospitality and leadership training. Staff have also attended the Etihad and Alitalia Training Academies, to further enhance their ability to provide the best customer experience.
Tiedt said: "I'm convinced that the key differentiator for Alitalia is the passion of the employees. Everything we are achieving is a result of the dedication and commitment of the people of Alitalia and their incredible effort and hard work.
"The goals of Alitalia are achievable because we are giving our people, especially cabin crew and ground service agents, the tools and the confidence they need to drive the change."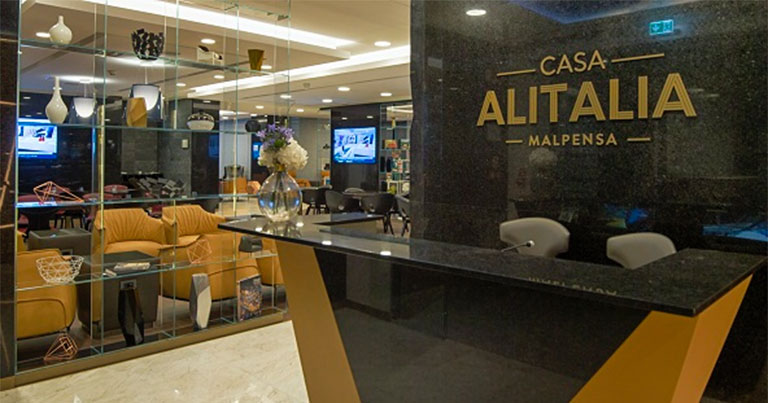 The airline has also been looking at providing more personalised services for passengers. Tiedt said: "It's something that I don't believe any carrier has cracked effectively just yet but like others it's something we're conscious of and something we're looking at closely. But in the meantime we're up-scaling our efforts to improve retaining customers and wooing them with the best that Italy has to offer." New concepts such as 'dine any time', which allows premium passengers much more choice in terms of what and when they eat and drink during flights, are the first steps in this effort to tailor the in-flight experience.
Technology is also playing an increasingly important role. "High tech solutions are essential to provide personalised, fast and automatic service to our customers and we're also heavily involved in using technology to improve customer standards whether that's on the ground or in the air." On this front, Alitalia has installed 40 self-service check-in kiosks and 10 self-service bag drops in Rome Fiumicino's Terminal 1.
All of these changes come as part of the airline's three-year strategy to return to profitability, which looks set to happen by next year. Tiedt said that "positive and meaningful change continues at pace in every area of the business" and that there is a "new found confidence and spirit in the business". With Etihad Airways' guidance, Alitalia is working hard to become one of Europe's leading airlines; a target that would have seemed "unobtainable" in recent history.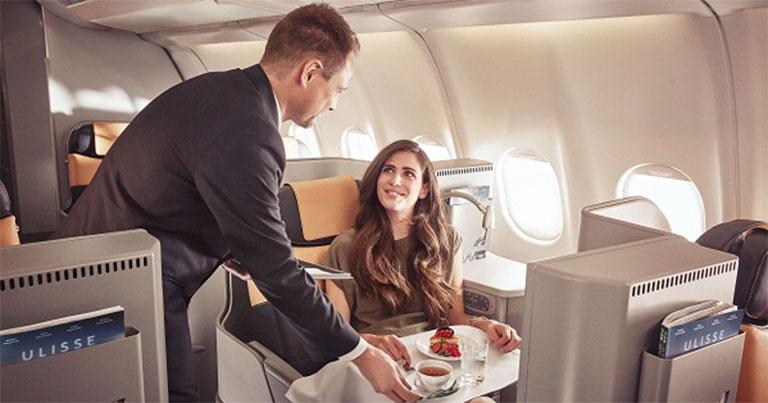 Passenger reaction and the next stage
The changes have gone down very well with the passengers. Tiedt described their reaction so far as being "extremely positive". In addition, customer satisfaction was at 91.4% for May 2016, which is the highest figure since the introduction of a new onboard survey in 2012.
The work the airline has been doing has also been recognised by professionals. She described that Alitalia has been voted one of Italy's 'superbrands', while the airline has also met or exceeded all key performance indicators over the past year.
Tiedt said: "Our partnership with Etihad Airways Partners has played a major role, as has a strong and growing contribution from our codeshare partnerships."
In terms of future developments, the airline plans to invest €400 million in the introduction of Panasonic internet connectivity on long-haul aircraft. Tiedt also mentioned that "we are now working on two main projects that will further enhance the customer experience", although she remained coy on more specific details.
As Alitalia continues to go from strength to strength, the goal to be seen as one of Europe's leading carriers is getting ever closer.