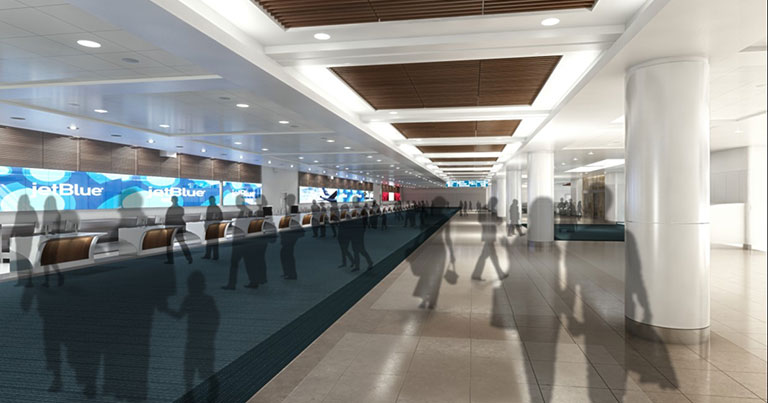 Greater Orlando Aviation Administration (GOAA) has revealed that it will be bringing a video wall to Orlando International Airport to help provide a more engaging check-in experience.
The video wall will span 1,560 feet, will feature over 700 55″ LG screens, and will be designed and installed by SITA in partnership with Synect.
The screens will be integrated with SITA AirportCentral and AirportVision, meaning that passengers will be able to see real-time airport and flight information, weather updates and dynamic wayfinding. The screens will also be able to show games to keep younger travellers entertained.
John Newsome, IT Director, GOAA, said: "Renovating our ticket lobby to make check-in faster and more enjoyable for more passengers is a key component of our capital improvement plan. This innovative video display redefines the check-in experience by keeping our passengers informed and entertained as they check-in, while also allowing airlines to promote their brands, engage on social media and even offer last-minute upgrades and purchases on larger-than-life displays."
Matthys Serfontein, Vice President, Airport Solutions, SITA, said: "Orlando's new video wall is a fantastic showcase of how technology can transform the passenger experience. It is visually exciting, informative and engaging.
"Most importantly it is fully integrated with the operational systems we provide to the airport. This means that passengers will have access to accurate real-time information. There is also the opportunity to display predictive information, such as expected wait times at security or baggage collection. The sharing of all this information helps to reduce the anxiety of passengers as they make their way through the airport."