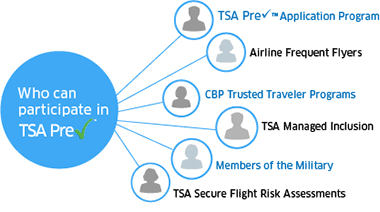 Lufthansa passengers can now use the Transportation Security Administration's (TSA) PreCheck screening lanes, after the airline announced it is now part of the programme.
PreCheck is TSA's solution to providing a faster transition through the security checkpoints. When using the security lanes, passengers do not need to take off shoes or belts and can leave laptops in their bags. There are now 18 supported airlines and 180 supported US airports, and Lufthansa has become the first European airline on the programme.
In order to use the faster checkpoint, TSA must decide if the passenger is eligible. US citizens, dual citizens, law permanent residents, members of US Customs and Border Protection's Trusted Traveler programmes and Global Entry citizens are able to apply to join PreCheck.
If they are eligible, information is embedded on a barcode on their boarding pass and a 'PreCheck' imprint is also posted on it. The barcode is scanned at the checkpoint and the passenger is directed to the faster lane.
Juergen Siebenrock, Vice President of The Americas at Lufthansa Group, said: "Lufthansa strives to maintain its role as one of the leading airlines in the aviation industry, and in doing so, continually aims for improvement and innovation advancements.
"Together, we are pleased in advancing this important US government trusted-traveller initiative, the TSA PreCheck programme. This is one of several new initiatives that adds to our commitment towards constantly enhancing the quality level of the customer experience on the overall journey with Lufthansa."