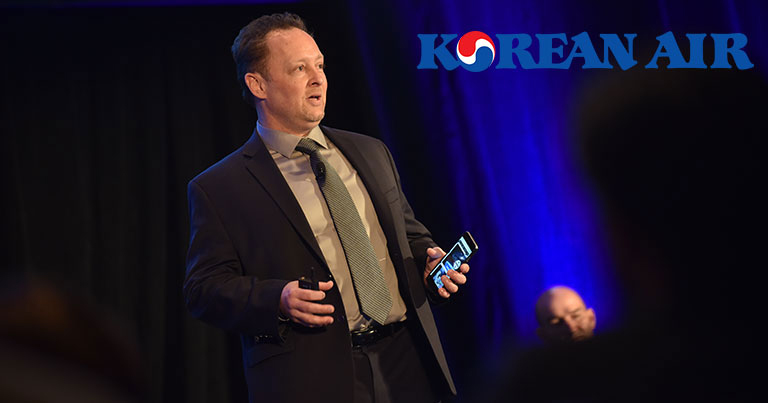 Ahead of his presentation in the Premium Conference at FTE Asia EXPO 2016 (25-26 October, Singapore), FTE caught up with Dante Dionne, PhD (c) – Senior IT Manager, Innovation Technology Development Center (ITDC), Korean Air, to find out what he's currently working on, which new and emerging technologies are at the forefront of his mind, and how he thinks the end-to-end passenger experience could be improved.
FTE: What sort of innovative projects are you currently working on at the Innovation Technology Development Center at Korean Air?
Dante Dionne: Our team is currently exploring technologies to provide passengers with 'ad hoc, real-time, on-the-go' travel information including travel chat-bots (both foreign and domestic) and voice-activated personal assistants. Fully anticipating that as these technologies mature, they will become more pervasive and couple seamlessly with our mobile/wearables applications. A couple of use cases for these new technologies are being discussed in my upcoming FTE presentation.
FTE: A variety of new and emerging technologies are helping to redefine the end-to-end passenger experience. Which technologies do you think will have the biggest impact on the customer experience over the next 5-10 years?
DD: Personally, I think that anything driven by artificial intelligence (AI) is the next tectonic shift in technology adoption. Technically speaking, conversational user interfaces are still in the formative stage of the Gartner Hype Cycle (Gartner, 2016). Or viewed through a psychological lens using Maslow's (1943) Hierarchy of Needs model as a reference, still exist in the lower levels of human needs.

FTE: "Personalisation" has become a buzz word in the industry and almost every airline now talks about a desire to personalise the customer experience. What are Korean Air's plans in this space and what do you see as being the biggest challenges to personalising the passenger experience?
DD: This has been an important topic for the past several years. Starting with the renovation of Korean Air's digital ecosystem, we have been closely assessing solutions from multiple platform providers. The greatest challenge will not be in implementation, but in shifting operational perspectives across the enterprise to take full advantage of what personalisation can provide.

FTE: As well as presenting in the FTE Asia Premium Conference, you'll be participating in the "FTE Onboard Connectivity 2025 Think Tank" session in the APEX conference in Singapore. How big an impact do you expect onboard connectivity to have over the course of the next decade? What steps is Korean Air taking to leverage all of the associated opportunities?
DD: Serious travellers are demanding more sophisticated mobility devices that are integrated and less complex. The advent of increased options for high-bandwidth connectivity will allow platform providers to answer this call. This is something our R&D team is keeping a close eye on for the near future.

FTE: Looking at the industry as a whole, which part of the end-to-end customer experience do you think is most in need of improvement? Do you have any suggestions as to how this can be improved?
DD: Is it too much to dream that a serious polymath (i.e. Leonardo Da Vinci type) will soon emerge and design a globally centralised data repository and communications platform that all travel service providers can economically use to provide real-time messaging and just-in-time information to passengers? The solution must include big data analytics features that travel fulfilment services (airlines, airports, etc.) can leverage to provide AI-driven personalised services to passengers.
At present, I can get an alert on my watch (or other wearable) that helps me to have a better travel experience. However, everything is so disconnected that after I get logged into my phone and open a number of applications to get the information I need to make decisions, I have already forgotten why it was important to me in the first place. This is an example of 'machines running people'. With AI, we would ideally be able to forget about the trip details, and focus on fully experiencing the remarkable journey we are on. This is of course assuming that all of the appropriate checks and balances will be taken care of for us.