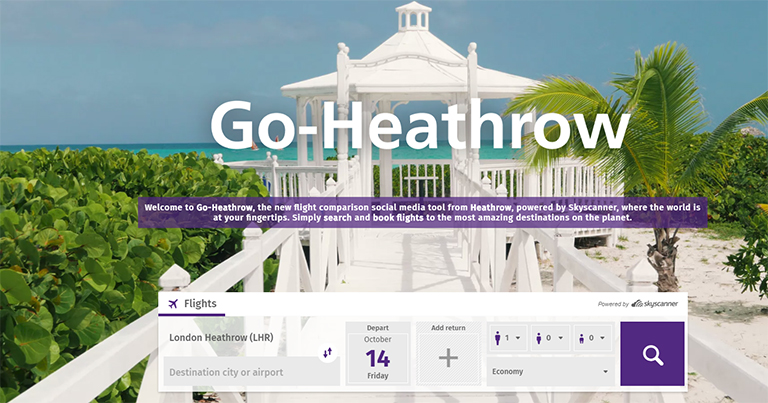 Travellers can now use Heathrow Airport's Facebook page to search for and book flights, following the launch of a new social media tool.
'Go Heathrow' helps users find the best prices for a variety of journeys. Users can also book flights directly from the social media page. The tool has been delivered in partnership with Skyscanner, using the company's specially configured Flight Search White Label.
Go Heathrow supports over 180 destinations in more than 85 countries, all accessible from one tool, which is designed to be user-friendly and simple. To use the service, travellers need to go to the Go Heathrow tool, and enter the destination, date, number of passengers and flight class to see the flight options, which can be filtered by various preferences.
Heathrow's Head of Passenger Communications, Marc Ellams said: "We are excited to be launching this new technology, which gives Heathrow passengers a useful and innovative tool for getting the best fares and journey plan that suits their individual needs. This new technology aims to make planning the next adventure as simple as possible, bringing the world to our customer's fingertips."
Mike Ferguson, Senior Commercial Manager for Skyscanner, added: "We are delighted to have worked with Heathrow to create this bespoke and highly innovative new flight search tool for users. This is the first time Skyscanner has partnered with an airport to build a travel search tool within their own social media profile, and I believe this inventive travel search mechanism represents an exciting new way for travellers to engage with Heathrow and find their next holiday all within their Facebook feed."