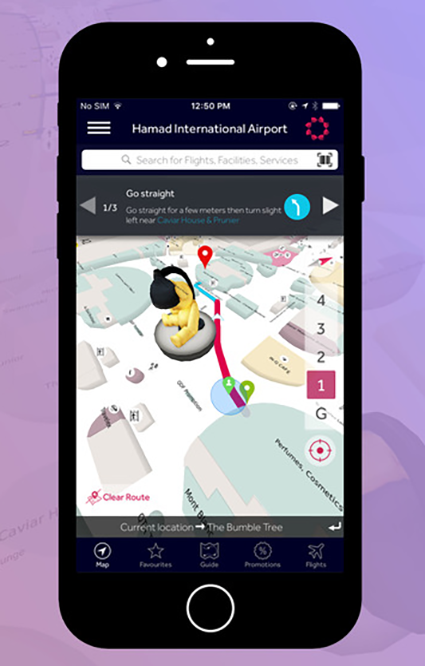 Following the release of its iOS mobile app earlier this year, Hamad International Airport (HIA) has launched the Android version of its iBeacon-enabled HIA Qatar app, which has been designed to give more of HIA's customers an interactive experience when travelling through the airport.
HIA has also released a major upgrade for its iOS app, which now makes use of Apple's Indoor Positioning technology. The airport has partnered with Apple to implement this capability, which provides an enhanced navigation experience inside the airport based on the user's real-time location.
Users of the app will find that the "landing" screen identifies their exact location in the terminal. Passengers can use the app to find directions, look up a flight by number or destination, and locate amenities, services, shopping and dining options using brand names or key words. Once an outlet has been selected, the user is presented with turn-by-turn navigation.
The iBeacon compatibility means passengers can opt-in for location detection and real-time, proactive updates. Location-based retail offers can also be communicated via the app.
Suhail Kadri, Vice President Information Technology at HIA, said: "Investing in state-of-the-art technology is crucial for maintaining our position amongst the top airports in the world. By leveraging our in-house expertise to design and develop, and partnering with industry leaders, we are continuously innovating technology-based services to make a difference for our customers."