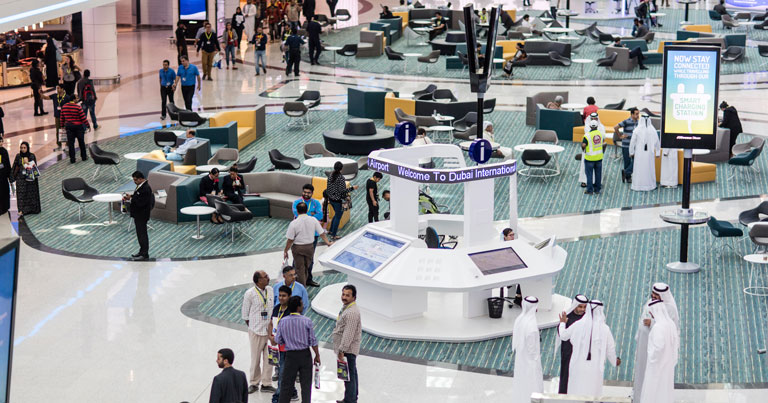 Passengers at Dubai International Airport and Dubai World Central will now be able to enjoy unlimited free high-speed Wi-Fi after operator Dubai Airports officially rolled out the upgraded service across both airports.
The unlimited free Wi-Fi takes only one click to connect thanks to a much simplified landing page, and offers speed that sets a new benchmark in airports globally. Furthermore, to ensure the speed and reliability of the new service, Dubai Airport is currently investing in over 6,000 new Wi-Fi access points to upgrade the entire wireless network infrastructure across both airports, and to enhance the internet links to over 5Gbps to provide the required bandwidth capacity, sufficient to power a small city. New web apps have also been specially developed for each terminal and concourse to improve information for the passengers.
"As the world's largest international hub we are the heart of many journeys across the world today," comments Michael Ibbitson, Executive Vice President of Business Technology at Dubai Airports. "When our passengers arrive in Dubai after a long journey they now expect to keep in touch with friends and family all over the world. To enable this, Dubai Airports has invested heavily in developing a state of the art infrastructure to deliver industry leading Wi-Fi capability. It is just one of many initiatives we have undertaken to serve and delight the 83 million passengers that will pass through our airports this year."
The launch of the new service followed extensive research into passenger expectations, as a result huge efforts have been made to upgrade airport Wi-Fi infrastructure capped off by the successful completion of a four-month pilot project launched at Concourse D in July earlier this year.