If you ask any airline or airport how they plan to improve the customer experience, there's a high chance they will mention the word "personalisation". Omnipresent smartphones, mountains of data and easy to install beacons and sensors have laid the foundations for the air travel experience to be personalised like never before. However, while the necessary tools are at hand, the industry is still working out how exactly to deliver a rich level of personalisation. If we look outside of the air transport sector, lessons can be learned from a handful of forward-thinking examples.
Carnival Corporation – Ocean Medallion Class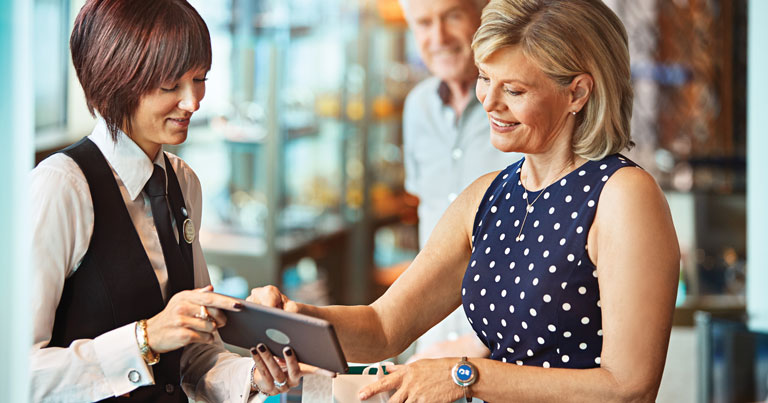 On 5 January, Carnival Corporation brand Princess Cruises unveiled its Ocean Medallion Class. At the heart of this is a wearable device designed to deliver a new level of personalisation to guests. The Ocean Medallion can be worn on a wristband, attached to jewellery or placed in a pocket and can personalise the guest experience by interacting with 7,000 sensors across the ship's 19 decks.
Ahead of their trip guests will be invited to provide Princess Cruises with their preferences and needs, and the first benefit of this is that the embarkation process will be expedited. Once on board, as well as using the Ocean Medallion to unlock doors, it can be linked with a credit card to make contactless payments. Family members and friends will also be able to easily find one another using the trackable wearable device.
Upon its launch in November 2017, the Ocean Medallion will be complemented by the Ocean Compass, which will tap into those personal preferences that guests have already provided. The digital assistant will be accessible on interactive screens located around the ship or on personal electronic devices. Guests will be presented with bespoke promotions, they will be able to place F&B orders, book recommended shore excursions and submit requests to crew.
Jan Swartz, President of Princess Cruises, explained: "We are in the business of providing our guests incredible vacation experiences that create memories that they will cherish for a lifetime. Ocean Medallion Class will deliver an elevated cruise vacation experience by connecting people, places and cultures from around the world in a more profound way."
Of course, ships and airports are vastly different environments but the Ocean Medallion certainly provides food for thought. Imagine if the TV screens displaying personalised offers were located in the airport terminal, or if the wearable device unlocked doors to airport lounges.
App-based F&B ordering is starting to catch on in the air transport industry but why not take it a step further and integrate it into the airport/airline app and provide recommendations based on preferences supplied by the passenger ahead of the day of travel? Airports could even allow passengers to summon roaming customer service agents via the digital personal digital assistant.
Carnival Corporation has made this investment to differentiate its product from the competition. Any airport or airline wishing to do the same would do well to take a closer look at the Ocean Medallion Class experience.
Marriott M Live Studio – extending the engagement window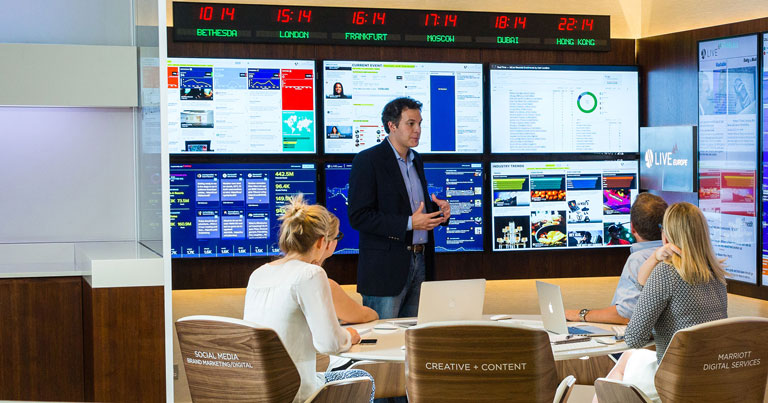 Social media is now firmly embedded as a crucial element of most companies' customer engagement strategies. In the hospitality sector, Marriott International's efforts stand out thanks to its investments in its M Live Studios, the fourth of which opened at Marriott's European Headquarters in London in July 2016.
According to the company, the studio serves "as the epicentre for creating real-time content and generating social engagement with travellers in Europe". "M Live is designed to empower Marriott to interact with guests in a more personalised way and participate in one-to-one conversations on social platforms where travellers are already actively engaged," the company states.
Of course, M Live is largely about promoting the Marriott brand but part of this is focused on ensuring that it is on hand to deal with any questions or concerns that customers, or potential customers, may have. For airlines and airports that often struggle to build meaningful relationships with passengers outside of their day of travel, M Live Studio provides a useful example of how the engagement window can be extended to help build trust and have more personalised interactions.
Hilton HHonors app – third party integration and personalised offers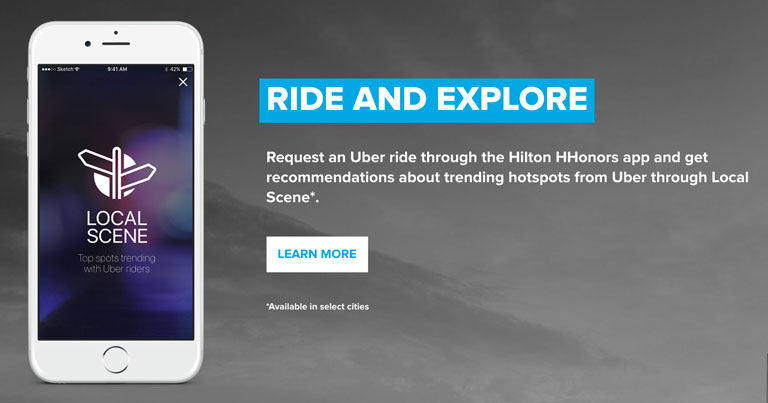 Hilton Worldwide's app hit the headlines a couple of years ago when it was announced that guests would be able to access their rooms using their smartphones using a so-called "Digital Key". Aside from that head-turning feature, Hilton has invested in a number of other areas to provide its customers with a more personalised experience.
Guests can not only select their room using the app, they can also choose the view they want thanks to Google Maps integration. Another partnership with Uber enables Hilton HHonors app users to request an Uber and access 'Local Scene', which provides users with trending restaurant and nightlife recommendations from local Uber riders. Importantly, Hilton's customers can enjoy these features without having to switch between multiple apps or websites.
Building on this, in September 2016, Hilton Worldwide announced the addition of 'Fun Finder' to its app. In a release to announce its launch, Hilton Worldwide explained: "Using Wi-Fi, GPS and beacon technology, Fun Finder acts as your personal travel guide. It understands what you enjoy and provides recommendations based on your arrival and departure information, preferences collected in a pre-arrival survey, the current time and your location in the resort."
Over the last couple of years, FTE has reported on a number of airports that have installed beacons to send proximity-based promotions to passengers as they pass through the terminal. However, these tend to be generic and impersonal.
If these interactions were based on accurate travel information, preferences drawn from pre-travel surveys, as well as current time and location, passengers could instead receive personalised and meaningful messages. A message that reads "You told us in your pre-travel survey that you might be interested in lounge access. We can offer you 25% off entry if you come to our lounge within 30 minutes" would surely resonate more than "10% off your next coffee".
Personalisation will be a key topic at all four Future Travel Experience events in 2017, especially at FTE Global 2017 (6-8 September, Las Vegas), where the theme will be "Achieving personalisation for the passenger of tomorrow".