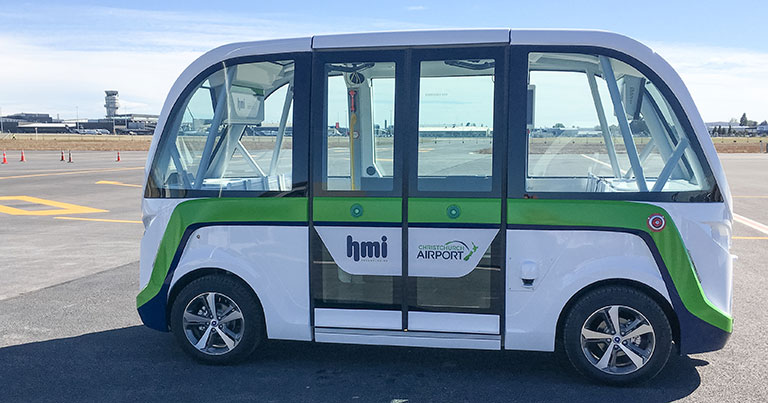 Christchurch Airport has taken delivery of a fully autonomous Smart Shuttle for New Zealand's first on-road research trial.
The Smart Shuttle, manufactured by NAVYA and reviewed by FTE last year, can carry up to 15 people, has no steering wheel and is electric powered. The airport is hosting the trial to understand how autonomous shuttles might operate at Christchurch Airport and how people may react and interact with them.
Christchurch Airport Chief Executive Malcolm Johns explained: "We can see the potential for driverless vehicles to transform and enhance mobility and transport options on the airport campus. We want to explore the possibility of deploying autonomous vehicles to assist people moving around our campus efficiently and sustainably, so we formed a partnership with HMI Technologies to consider how we might make this happen."
Dave Verma, Director of Australasian Driverless Vehicle Technologies at HMI Technologies, said the company is involved in the trial for three key reasons: "Firstly, as an intelligent transport systems innovator, our R&D and business development teams will get vital hands-on experience. We also hope the trial will prove the efficacy of autonomous vehicles to commercial operators like Christchurch Airport, and to government decision makers. Additionally, we want the New Zealand public and students to have the opportunity to participate and provide feedback on the experience."
The trial will begin in the next few weeks on private roads on the airport campus. The driverless shuttle will initially operate on a closed area of road. Once the safety requirements are proven, trials are then expected to take place on public roads.
Members of the public will only be involved once safety has been proven and such trials are likely to be undertaken in a controlled environment.