The upcoming Future Travel Experience Europe 2016 event, which will take place in Amsterdam from 25-26 April, will provide a unique platform for senior air transport and travel industry executives to define how new technology will help to reshape the passenger experience of 2025. However, making nearer-term improvements is also a key element of FTE's mission to enhance the end-to-end travel experience, so last week we attended Passenger Terminal Expo in Cologne to take a look at some of the solutions that can help to improve and expedite today's air travel process. Here we highlight some of the most eye-catching solutions that we discovered.
Biometric-based processing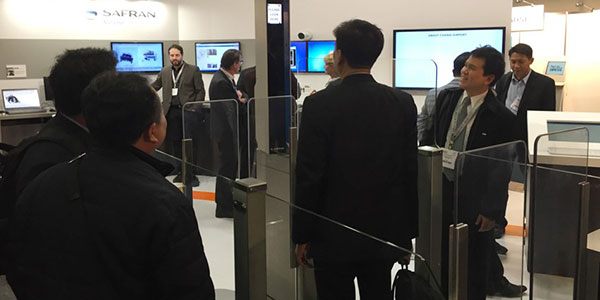 After receiving official confirmation that Morpho (Safran) has signed a contract with Singapore Changi Airport to supply a biometric-based solution to facilitate an expedited and fully secured passenger journey through the new Terminal 4, which is due to open in 2017, FTE caught up with Christine Riveau, Deputy Vice President, New Ventures, Strategic Development, Security Division, to find out more about the pioneering solution.
This biometric control system (which differs to the one pictured above) covers self-service bag drop, integrated border clearance and self-boarding gates, and will ultimately help to increase the operating efficiency and passenger experience in the new T4, which will serve predominantly low-cost airline traffic. As Riveau explained, the solution is based on MorphoPass Biometric Applicant Management System and MorphoWay automated gates to support Changi Airport's Fast and Seamless Travel (FAST) programme. The project marks the first use of facial recognition technology at Changi Airport and eliminates the need for manual identity verification by staff.
"This is very much a worldwide premiere and we are very proud of what has been a great team effort from everyone involved in making this a reality," Riveau told FTE. When asked whether this biometric-based approach to streamlining and securing the airport experience is likely to become a widespread feature of air travel in the coming years, Riveau replied: "Is this our vision of the future? 150% yes!" She continued: "This is the result of a lot of hard work. We launched the innovation programme back in 2012, and even if biometrics was envisioned as the way forward since 2007, new technologies and software development made it possible. I'm convinced that this is the future and Safran has been a visionary in terms of putting this programme together."
Carry-on management
Aside from the self-service check-in kiosk and bag drop solution on show, it was the new Cabin Luggage Solution that caught FTE's attention on the Materna stand. The solution enables airlines to automatically weigh and measure passengers' hand luggage at an early stage of the departures process. If the hand luggage is too large or too heavy, the passenger will receive a receipt informing them that they need to check-in their bag, as it will not be allowed on board the aircraft. As Jorge Aragón, Solution Management Hardware, Strategic Procurement, and Jana Eull, Marketing Management, Sales Support, explained, the product has been developed in response to the fact that more and more passengers are opting to travel with carry-on luggage only. This solution can help airlines ensure that passengers do not arrive at the gate with luggage that doesn't satisfy their carry-on specifications.
"It is up to the airports and airlines where to position this, but I personally would put it in front of security control, as that's often the first touch point for passengers flying with hand luggage," Aragón explained. "This not only allows airlines to manage the size and weight of carry-on luggage, but also to accurately monitor the number of bags. For instance, if the airline can only accommodate 80 or 90 bags on board, the machine can be programmed for this and once 80 or 90 bags have gone through, the rest will have to be checked in. It is better for the passenger to find this out at this early stage, instead of at the departure gate."
Automated retail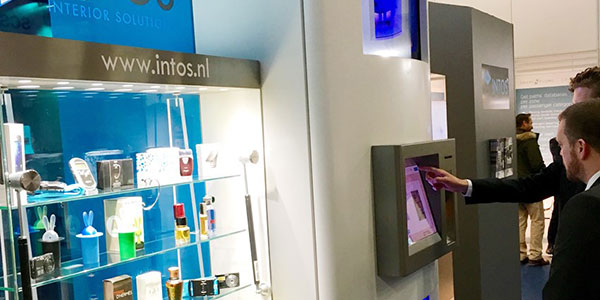 FTE was also impressed with Version 3 of the Automated Retail Concepts kiosk on the Intos Interior Solutions stand. It has already been utilised at Schiphol, Frankfurt and Munich airports as well as shopping centres and casinos around the world. Gate areas always seem an under-utilised opportunity for retailing, but this solution brings both the "wow" factor and theatre to the airport.
In the future the kiosk may provide the opportunity for passengers to order items way beyond those stocked in the machine, which is a trend FTE expects to pick up pace soon both at the airport and in-flight.
Intelligent, autonomous transport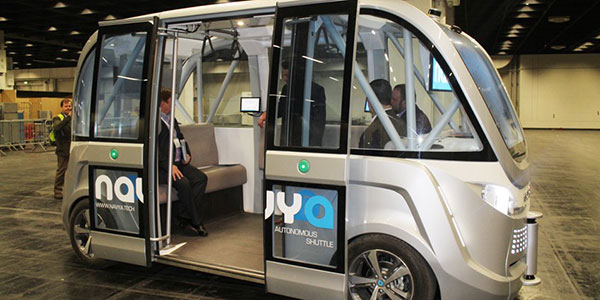 Electric, intelligent and autonomous are not words you often associate with passenger transportation, but the Navya Arma is something of an exception. FTE had the chance to demo this driverless shuttle, which can be used either inside terminals or on the road. "This has a lot of potential uses," Diego Isaac, Navya's Marketing and Communication Manager, explained. "It could be used to take passengers from long term parking to the terminal, to take them to the departure gate in the terminal, or from terminal to terminal for connecting flights."
The vehicle can be programmed to follow a predetermined route, with the sensors, GPS, odometer and camera stereovision technology ensuring it sticks to the route and avoids any obstacles along the way. Automation, robotics and artificial intelligence (AI) are key trends in the air transport sector, and you'll be able to learn more about these subjects in the dedicated Robotics & AI Symposium at FTE Global 2016, 7-9 September, Las Vegas.
Flexible self-service solutions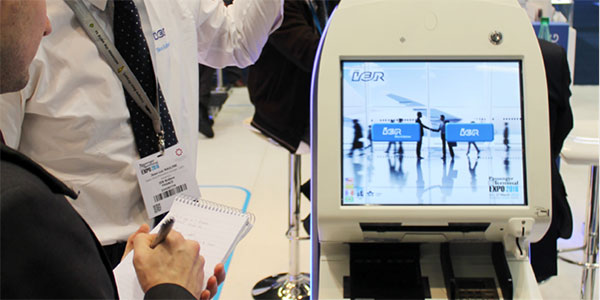 The rate at which passengers have embraced mobile check-in has led to some to call into question the future role of the self-service kiosk, but IER showcased the modern day capabilities of the kiosk for both check-in and automated border control. As Jean-Luc Rauline, Vice President, Airports & Airlines Activity, demonstrated, the latest generation common use self-service kiosk not only offers check-in, payment functionality and NFC support, but also a second screen that can be used for advertising purposes to host either third-party or airline-specific promotions.
The kiosk can also be configured for automated border control, providing a secure and impressively speedy alternative to the manual immigration process. "The kiosk as we know it is changing, but we are addressing this to boost the self-service market," Rauline explained. "It's an important part of the move towards even more self-service." FTE was also very interested to learn that IER is working closely with Aéroports de Paris on an end-to-end biometric-based passenger processing project – we'll bring you more on this in the coming months.
Stylish bag drop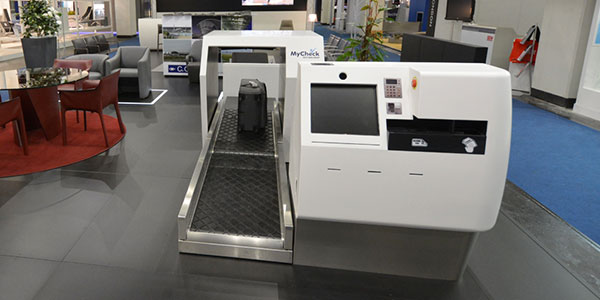 CCM Technology's MyCheck Hybrid solution caught the eye in Cologne. Here at FTE, we've always associated CCM with airport interiors, but its technology division is doing interesting work to bring some great Italian design to new airport technology efforts. The MyCheck solution is designed to offer airports and airlines fully automated self-service baggage drop while maintaining traditional check-in design, capacity and capability. This solution places the control of check-in and bag drop firmly in the hands of the airport and airline. FTE was given a preview of images from a new installation being tested right now, which we're sure would impress any passenger that comes into contact with it.
Wayfinding for the visually impaired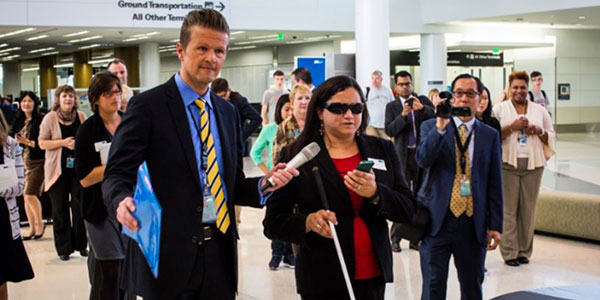 Simplifying the airport experience for passengers requiring assistance is an area that is all too often overlooked, but indoo.rs is doing an impressive job of leveraging technology to do exactly this. The company already works with San Francisco International Airport to provide audio wayfinding instructions to visually impaired travellers via an iPhone app. A combination of positioning algorithms, Bluetooth low-energy beacons, Wi-Fi access points and a mobile app, help to guide passengers. Florian Leiler, Head of Sales, indoo.rs, explained to FTE that the technology could also be used to provide bespoke navigation to wheelchair-bound passengers, to help ensure they know the easiest route to their departure gate, or other airport facilities.
Electronic innovation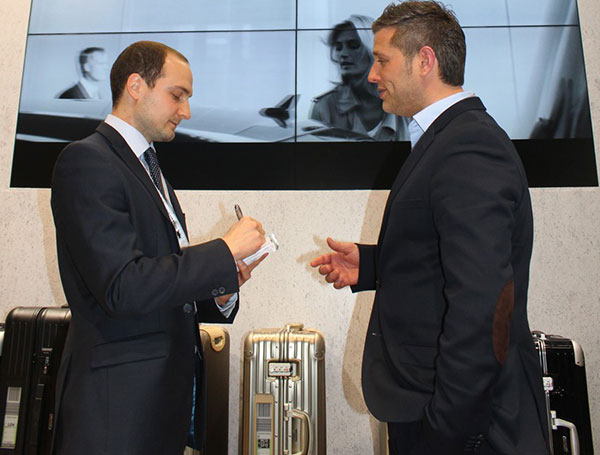 Following the announcement of Lufthansa as the launch partner of the RIMOWA Electronic Tag, a number of airlines have expressed an interest in the pioneering digital luggage solution, and Jan Reh, RIMOWA Electronic Tag's CEO, told FTE that as many as 10 airlines have been engaged in dialogue about following Lufthansa's lead. The German flag carrier has just launched its updated app with RIMOWA Electronic Tag integration, meaning travellers can make use of the solution today.
RIMOWA's belief in the product is clear – RIMOWA CEO and President Dieter Morszeck was in Cologne to help promote the product – and with such support from the top and a high level of momentum, the RIMOWA Electronic Tag certainly has the potential to help drive the baggage revolution.
Contactless bag drop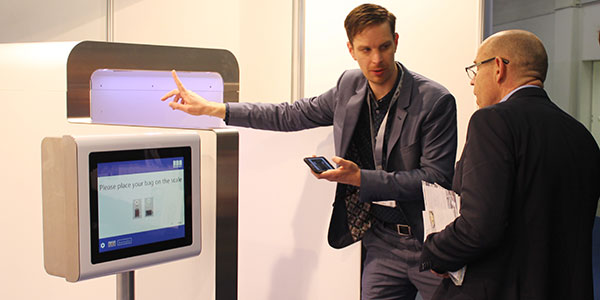 Competition in the self-service bag drop space is fierce, but Phase 5 Technology Managing Director Laurence Eke explained to FTE why he is confident that the company stands out from the crowd. The two-step process enables passengers to tag their bag at a kiosk initially, before proceeding to a bag drop unit where they can deposit their bag into the baggage handling system without any assistance. Thanks to four sensors integrated into the bag drop unit, stage two of the bag drop process becomes a contactless experience, as the passenger doesn't have to scan any documents or press any buttons. The sensors automatically detect the tag, measure and weigh the bag, and approve the process if everything is in order. Aer Lingus passengers flying from Dublin Airport are among the first to be able to make use of this system.
Offsite tagging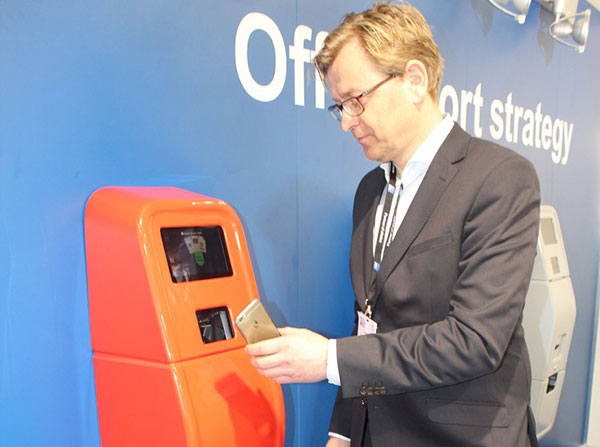 How to reduce queues in the check-in hall is a conundrum that many airports and airlines are faced with, and BBC told FTE that it has developed an effective solution to this challenge. The Tagomat allows for self-tagging to be moved beyond the boundaries of the airport. Passengers can simply scan their boarding pass to identify themselves and then their bag tags are printed out automatically. When they arrive at the airport, all they have to do is drop off their pre-tagged bag. Jørn Askvik, CFO, BBC, said the Tagomat could be installed in hotels, train stations or in airport car parks, for instance, to help ease queues in airport terminals. He explained that a trial is planned in Stavanger, where up to 12 units will be installed in a number of locations.
Appy Flow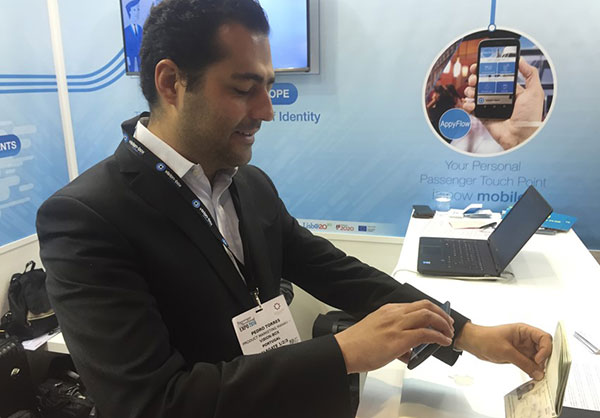 Building on the Happy Flow single passenger token project, which is being trialled at Aruba Airport, Vision-Box has now unveiled an accompanying app, called Appy Flow, which enables travellers to enrol for the Happy Flow process using their smartphone. The current Happy Flow process requires passengers to register at the airport using a self-service kiosk, which links their photo, passport and boarding pass to create a "personal data envelope", but the app allows for this process to be undertaken at home. The passenger can use their smartphone camera to capture their photo and then by holding their e-passport against the NFC enabled phone the image is then validated against and linked with the passport.
Vision-Box's Pedro Torres, Marketing Director, also showcased to FTE the new "Orchestra" platform. The common-use platform for airports, airlines, government agencies and other air transport industry stakeholders integrates real-time passenger flow information into a single digital platform. Stakeholders can use the platform to, for instance, easily see which passengers have passed through each of the airport touch points and define collaborative business rules based on passenger flow information, which creates numerous potential operational efficiency benefits.
Single biometric token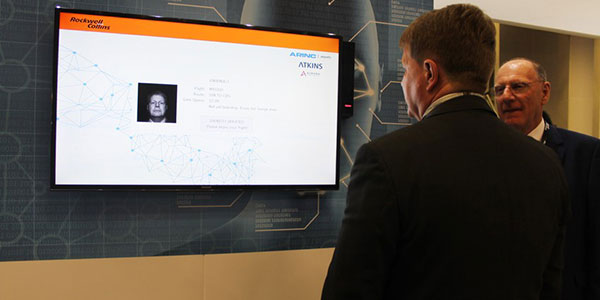 Amidst a busy week of announcements by Rockwell Collins, including confirmation that Cologne Bonn, Dublin, Cork and Berlin Schönefeld airports have signed up for the ARINC vMUSE common use passenger processing solution (CUPPS), FTE caught up with Tony Chapman, Senior Director, Product Management and Strategic Programmes, Global Airports, Rockwell Collins. Biometrics is high on the agenda for the company, and later this year Rockwell, alongside partner Atkins, will start trialling a biometric matching solution using facial recognition technology as the basis of a single passenger token at a major international airport. "A great thing about this is that we can do all of this and create a more seamless and secure journey through the airport without the airlines having to change anything," Chapman stated.
In addition, Chapman outlined how Rockwell Collins is "developing a true global cloud vision". He said: "We've offered cloud-based solutions since 2012, but now we're re-engineering them so they're cloud native products." This move, he said, will help to empower airports by offering the choice of onsite infrastructure or scalable cloud-based solutions.
Simple, secure processing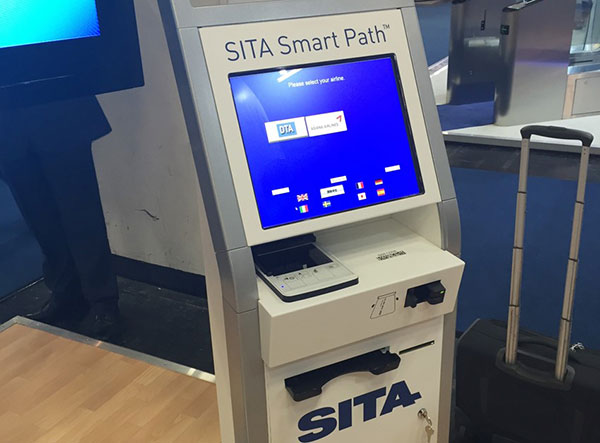 Adding further weight to the theory that a single biometric token is set to revolutionise the air travel experience, SITA has revealed Smart Path, which also allows passengers to move through the airport simply by undergoing biometric checks. Following the initial verification via a facial scan at the first touch point, Smart Path removes the need for passengers to present their passport and boarding pass at each of the other airport check points. The company says it expects that by 2020, biometric-enabled processing will be the norm at airports across the world. Matthys Serfontein, Vice President, Airport Solutions, SITA, explained that "Smart Path simplifies secure passenger processing for everyone – airlines, airports and border authorities".
Biometric bag drop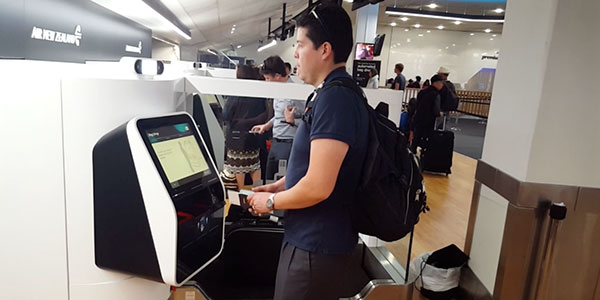 The day before FTE paid a visit to the ICM Airport Technics team, 13 more of the company's biometric-enabled self-service bag drop solutions had entered operation at Auckland Airport. As Richard Dinkelmann, ICM's Managing Director Australia, explained, the biometric-enabled solution means Air New Zealand's passengers flying internationally (except to the US) can now complete the check-in and bag drop process without the need for a manual passport check by a human agent. Dinkelmann explained that ICM's presence continues to grow – with recent projects undertaken in Asia, Canada and Europe ­­– and more than 35 million bags have been processed using the company's solutions. Integration of biometric technology into the latest model is likely to attract even more attention.
Mood measurement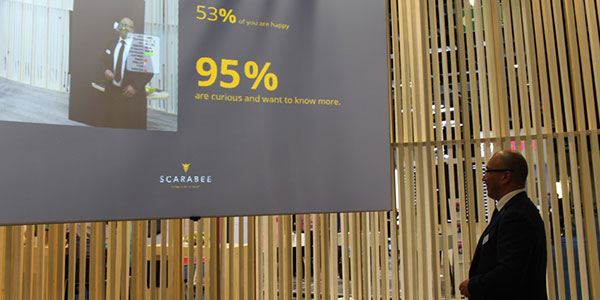 Scarabee Aviation Group, Platinum Sponsor of FTE Europe 2016, explained to FTE how a number of solutions are helping to improve the passenger experience, ranging from its security solution which promotes "security as a service" to Bagdrop's self-service baggage solution, which can be found in the likes of Amsterdam and Haneda airports. Michael Tan, CEO of Scarabee Aviation Group, revealed that the company is working with Bristol Airport to enhance the security experience, and also demonstrated an innovative facial recognition technology enabled solution that can help airports and their partners measure how their passengers are feeling.