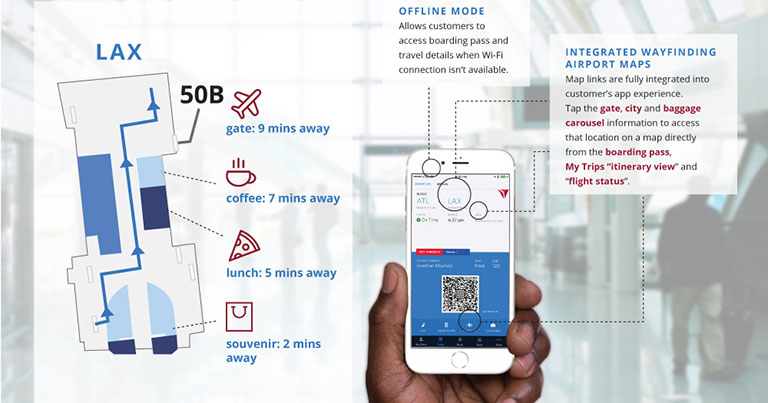 Delta Air Lines has released the latest version of its Fly Delta app, which now includes access to detailed airport wayfinding maps, and the ability to access boarding pass and flight details, even when a reliable Wi-Fi or cellular connection is not available.
The wayfinding tool features interactive maps for 20 major airports – including the airline's hubs – and guides customers with turn-by-turn directions to their gate, restaurants or baggage claim belt. Delta says it is now the only airline to give customers the ability to access airport maps on iPhone via their boarding pass by touching the departure city code, arrival city code or gate numbers, and through My Trips, Flight Status and the "More" section.
Airport maps included are: ATL, BOS, CVG, DCA, DTW, JFK, LAX, LGA, LHR, MCO, MSP, NRT, SEA, SFO and SLC. This spring, maps for AMS, CDG, GRU, MEX and PVG will also be added.
"Delta's airport maps are another customer experience differentiator," said Rhonda Crawford, Delta's Vice President – Global Distribution & Digital Strategy. "We went beyond the industry standard to fully integrate maps into the boarding pass and other parts of our app experience. We are trying to anticipate when customers may want or need to use a map and provide an easy and intuitive way to do that – whether to find a Sky Club, a gate or a cup of coffee."
Delta worked with tech start-up LocusLabs to develop the wayfinding map functionality. Customers can search using generic terms like "coffee" or brand names like "Starbucks" and choose from a list of options to retrieve directions.
Campbell Kennedy, CEO and Co-founder of LocusLabs, said: "As a first among travel apps to ingrain location services this deeply, Delta has put the passenger's needs first, while laying the groundwork to streamline the customer experience, improve operations, and ultimately provide a superior end-to-end travel service."
The latest Fly Delta app for iPhone also includes 3D Touch quick actions on the home screen app icon so customers can tap the icon to reveal shortcuts to book a flight, check in or view flight status.