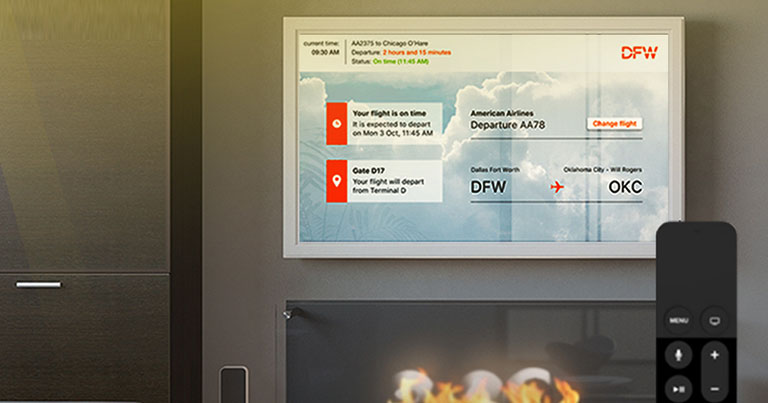 Dallas/Fort Worth International Airport (DFW) has added to its digital portfolio by becoming the first airport in the world to launch an app for Apple TV.
Explaining the thinking behind the development of the Apple TV app, Sharon McCloskey, Vice President of Marketing at DFW, said: "Due to the huge increase in Apple TV sales in the last year, we want to be part of that growth to reach new and loyal customers." She added: "At DFW, we're constantly looking for ways to make the travel process as seamless as possible for our customers, and that means using the technology that customers can personalise for their needs."
The airport also offers apps for iPhone, iPad and Android devices, and was the first US airport to offer an Apple Watch app. The new Apple TV app now allows travellers to view the latest travel information on their home, office or hotel TV screen.
Users can search for their flight and view information such as departure time, and real-time flight and gate status. A dashboard for their selected flight remains at the top of each screen.
They can also view a map of the parking products at DFW, including general information, parking availability, rates and the closest options to their gate. The app can also determine the user's current location and plan a route to and from DFW, taking into consideration traffic and estimated time of arrival.
Ken Buchanan, DFW's Executive Vice President of Revenue Management, said: "The Apple TV app allows us to provide customers information they want in real-time. This app and the DFW mobile app demonstrate our commitment to personalising the travel experience for our customers."