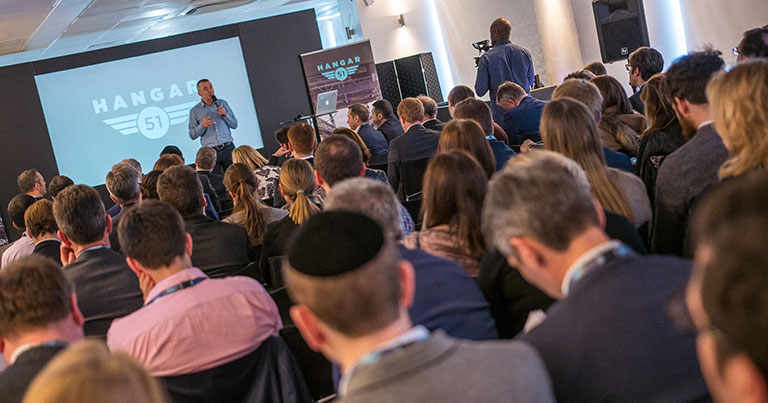 Following its successful Hangar 51 accelerator programme, International Airlines Group (IAG) has announced that it will invest in two start-ups: Esplorio and Vchain.
More than 450 start-ups applied to join Hangar 51. As recently reported by FTE, five companies were eventually selected to spend 10 weeks working in IAG's headquarters.
From those five companies, Esplorio and Vchain have now been selected to continue working with IAG to further develop their products. They will also receive funding from IAG's multi-million pound investment fund for digital transformation.
Esplorio is an app that records and shares travel experiences in a simple way. During the Hangar 51 accelerator, Esplorio recorded cabin crew adventures and demonstrated how its app can create rich content automatically. The app checks travellers into their favourite places, tracks their routes and uploads their photos into a travel journal without manual interaction.
IAG is working with Esplorio to provide more opportunities for customers to capture their travel memories both with British Airways' Executive Club and on board using Wi-Fi. This will provide customers with rich content that is not available today.
Vchain is blockchain technology that builds patent-pending Digital Identity SaaS (Software as a Service). Vchain technology allows customers to have control over their data and can help them get through airports faster.
Around 50% of passengers make errors when submitting passenger information to airlines before their flights, which then have to be manually corrected at the airport. Vchain tested a prototype that automatically detects these inaccuracies and enables immediate corrections online. Over the coming months the live tests will be expanded into a full commercial product for IAG.
IAG is also working with Vchain as part of the IATA One Identity programme. The objective is to speed up airport processes by using biometrics and digital authentication.
Stephen Scott, IAG's Head of Global Innovation, said: "Hangar 51 has been a fantastic opportunity to work on business challenges together, combining IAG's industry expertise with the start-ups' speed and agility. The two companies we are investing in have the potential to add great value, rich content to our customers and operational efficiencies. This has been our first global accelerator programme and it will definitely not be our last."