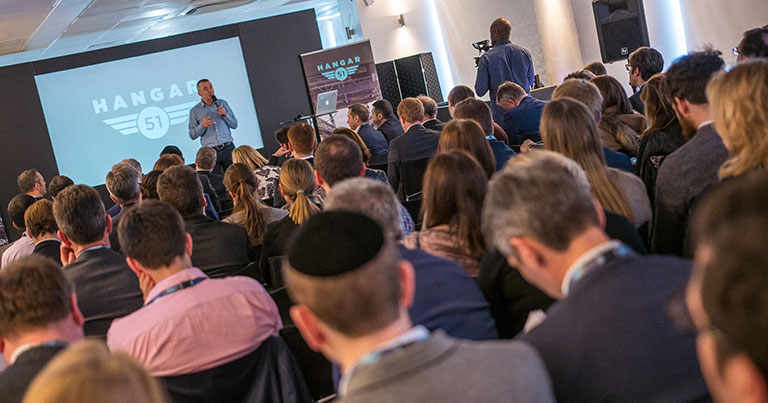 Following International Airlines Group's (IAG) 10-week Hangar 51 accelerator programme, the group has shared the achievements of the five start-ups that were selected to participate in the project.
Hangar 51 was launched in October 2016 as a joint initiative between IAG and corporate innovation specialist and early-stage investor L Marks. Its aim is to find new solutions for several key industry challenges, and it offers an opportunity for start-ups to trial their concepts globally. The start-ups involved in the accelerator have had the opportunity to be mentored by members of the group's senior management team.
Five start-ups were selected from more than 450 applications to participate in the 10-week programme. They were Esplorio, Undagrid, Warwick Analytics, Resolver and Vchain. Between them, they received more than 220 hours of mentoring during the 10-week programme.
Automated travel journal
Esplorio provides a simple way to record and share trips, making sure that you never forget your experiences and adventures. The app automatically checks you in to your favourite places, maps out your route via GPS, and uploads your photos into a travel journal. The app can provide IAG with more data on its customers' preferences, which can help it tailor services and promotions. During the Hangar 51 programme, Esplorio worked on a number of use cases, including capturing cabin crew trips to London and Lisbon, and a marketing campaign to promote travel to the UK. The start-up has also successfully integrated rich travel content on ba.com, to help drive engagement and increase sales.
Esplorio has received mentoring from IAG Director of Strategy, Robert Boyle, who will deliver a keynote address at the co-located FTE Ancillary and FTE Europe events, which will take place in Dublin on 26-27 June.
IoT and predictive analytics
Undagrid has also been involved in the programme. This start-up provides various opportunities to optimise logistics and create new services by connecting assets. This is achieved by combining its innovative tracking technology with an autonomous communication network. During the Hangar 51 programme, Undagrid performed a live test of its tracking solution in Madrid and Heathrow airports. By tracking unit load devices and customer baggage, IAG can improve the customer experience and operational efficiency.
Warwick Analytics is also among the start-ups involved in the accelerator. The company produces automated predictive analytics software, creating predictions that would normally take months of manual data analysis in just minutes. During the programme, Warwick Analytics used its software to analyse unstructured customer feedback, focusing on automatically categorising the data and visualising key insights.
The fourth of the five start-ups is Resolver, an independent online resolution service that helps consumers to be more effective at raising issues, and helps businesses to be more efficient at understanding, addressing and resolving customer issues. The start-up has worked alongside IAG experts to understand customer relations processes, and how they can be automated to improve customer satisfaction.
Blockchain technology
The fifth start-up has focused on blockchain technology during the 10-week programme. Vchain's blockchain technology provides a solution for sharing data securely, which is of significant interest to airlines and their partners. During the Hangar 51 programme, the company focused on a passport validation use case. Vchain delivered a proof of concept that is now live with a small group of customers. The solution is designed to streamline airport processes, and the work is aligned to the IATA One Identity vision.
Combining start-up and corporate skills
Commenting on the benefits of the Hangar 51 programme, Stephen Scott, IAG's Head of Global Innovation, said: "Working with the start-ups has been an exciting and fast-paced experience, which changed every day. We pushed boundaries with experts around the business, and demonstrated what is possible in short timescales when you mix start-up and corporate skills together.
"During the 10 weeks, we have run product tests with real customers, learnt new approaches to long-standing challenges, and started the journey on an industry transformation around identity. I hope they have enjoyed the process as much as we did."