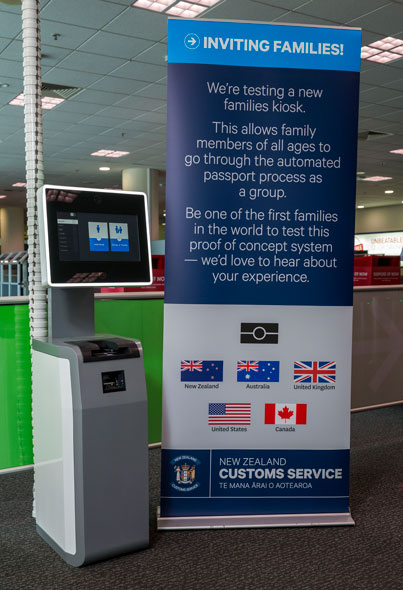 A new self-service solution for families travelling together is being tested by New Zealand Customs at departures at Christchurch Airport. The solution extends the existing e-gate programme to families, groups and assisted travellers.
Previously, families travelling with children under 12 years old and assisted travellers were unable to use the automated e-gates. Instead, they were required to go to a manual booth to complete their customs and immigration checks.
The new Family Processing solution is a self-service kiosk, which integrates with existing border management systems. The kiosk verifies passenger identity using facial recognition technology, and cameras are calibrated to capture passengers from 1-metre to 2.1 metres in height.
The mandatory questions can be completed using the touchscreen interface, and parents can respond on behalf of their children.
New Zealand Customs Minister Nicky Wagner said: "It's wonderful that we have an opportunity to test this new system right here in New Zealand. Customs is committed to providing a positive passenger experience, and this proof of concept will assess the feasibility of introducing automated processing for family groups."