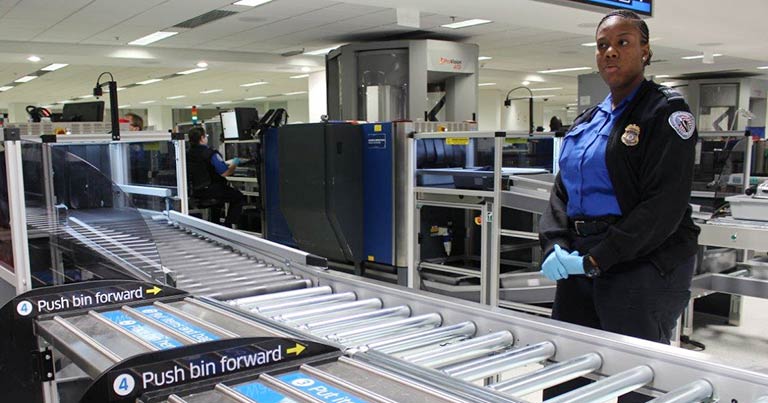 American Airlines, in coordination with the Transportation Security Administration (TSA) and Miami-Dade Aviation Department, has launched two automated security screening lanes in Terminal D at Miami International Airport (MIA).
The new lanes, funded by the airline, incorporate technology and screening station modifications designed to enhance security effectiveness and decrease waiting times for passengers. The advanced equipment in the automated lanes offers a number of unique features designed to improve the screening process.
Automated belts draw bags into the X-ray machines and return the bins back to the queue after completion of the screening; bags with a potential threat can be directed to a separate area to allow bins behind to continue through the system uninterrupted; the property bins are 25% larger than the bins in regular screening lanes; unique Radio Frequency Identification (RFID) tags are attached to each bin to allow for additional accountability of items as they transit throughout the system; and cameras capture photos of the outside of the bag, which is linked to the X-ray image of the bag's contents.
American has already launched automated screening lanes at its hubs in Chicago, Dallas/Fort Worth, Los Angeles and New York City.
Dan Ronan, TSA Federal Security Director – MIA, said: "Airports in the future must be about moving passengers from reservation to destination, through an almost invisible yet integrated ecosystem of distributed security, with less stress and frustration for both passengers and the officers who screen them.
"These new, innovative automated screening lanes enable us to do that by automating several of the functions previously conducted manually, thereby increasing security effectiveness and enabling passengers to move more swiftly and efficiently throughout the checkpoint."
The introduction of two automated security screening lanes at MIA follows the recent announcement by U.S. Customs and Border Protection (CBP) that it plans to deploy facial recognition biometric exit technology for a "select flight" departing from Miami.