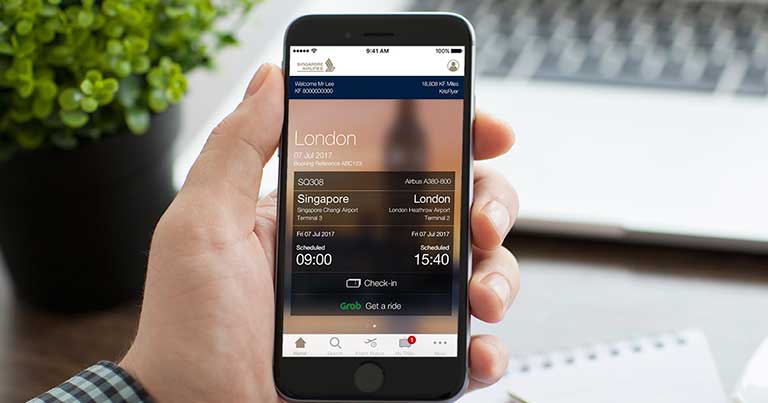 Singapore Airlines (SIA) and ride-hailing app Grab have announced a partnership to provide customers with more seamless travel experiences.
SIA and Grab will integrate their mobile apps to offer more convenience to customers when travelling to the airport in six countries across Southeast Asia: Indonesia, Malaysia, the Philippines, Singapore, Thailand and Vietnam.
SIA customers can now book Grab rides through the SingaporeAir mobile app. Customers using the app will see an option to book a Grab transfer to the airport seven days before their scheduled flight. Selecting this option will direct customers to the Grab app, where they can choose to order a Grab ride to the airport on-demand or in advance.
The airport will be automatically listed as the destination, so the user simply fills in the pick-up point and desired time. In addition, the first 5,000 customers will receive GrabPay Credits worth $10 in their Grab account for bookings made through the SingaporeAir mobile app for Grab rides in Singapore.
Members of SIA's KrisFlyer and Grab's GrabRewards programmes will enjoy additional benefits under the partnership. GrabRewards members have the flexibility to convert their points into KrisFlyer miles.
Singapore Airlines' Senior Vice President Sales & Marketing, Campbell Wilson, said: "We are thrilled to bring more convenience to our customers on the ground and in the air through our new partnership with Grab, while also offering KrisFlyer and GrabRewards members the opportunity to convert points to miles and redeem them for award flights or flight upgrades. We are constantly seeking to enhance our SingaporeAir mobile app and KrisFlyer programme to ensure that we provide more benefits to our customers."
Commenting on the partnership, Jason Thompson, Head of GrabPay, said: "Grab is honoured to serve as Singapore Airlines' land transport partner in Southeast Asia. We have a shared commitment to innovation and delivering safe and high-quality travel experiences to passengers. At the same time, we are constantly making the Grab platform more rewarding for our customers. With GrabRewards, a dollar spent on Grab is more valuable than a dollar spent in cash. By integrating Grab's and SIA's loyalty programmes, customers can look forward to using their points when they plan for their next holiday. This partnership is a significant recognition by one of the most prestigious airlines in the world and I'm incredibly excited about what we're going to achieve together."