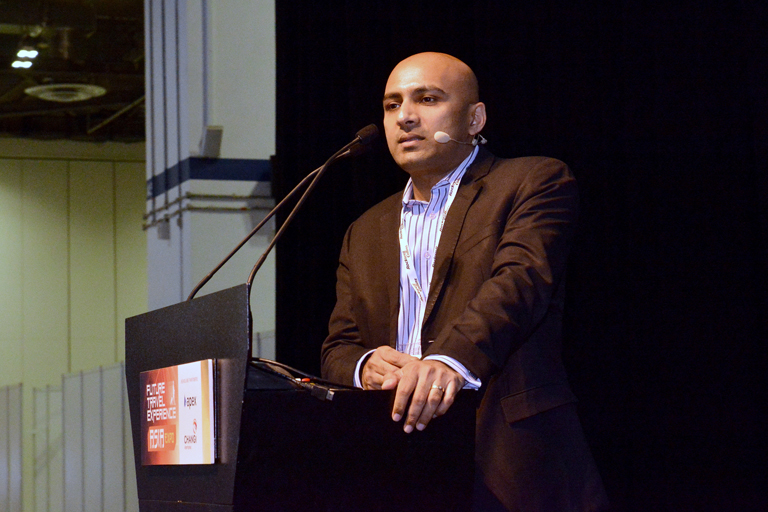 GMR Group, which operates Indira Gandhi International Airport in Delhi, Rajiv Gandhi International Airport in Hyderabad, and Mactan-Cebu International Airport in the Philippines, has been making a concerted effort in recent years to channel its innovation as it continues to implement new technologies to help future-proof its airport facilities.
Satyaki Raghunath, Chief Innovation Officer at GMR Airports, who delivered a presentation at FTE Asia EXPO 2017 in Singapore earlier this month, revealed to FTE which forward-thinking projects have either been recently completed or are currently ongoing.
Among them is a successful trial of biometric-enabled kerb-to-gate processing. "This will be completely operational for domestic passengers by early 2018 at Hyderabad," Raghunath said. "Once this is done, we will progressively roll it out for international passengers and deploy the solution at Delhi and eventually at Goa International Airport (which is due to be in operation by 2020)."
Meanwhile, A-CDM has been deployed at Delhi and Hyderabad airports, cameras and sensors are being used for queue measurement at airport immigration and check-in areas, and Bluetooth, Wi-Fi, beacons, facial recognition and analytics are being used for retail and passenger dwell time analysis. GMR has also self-developed a common use self-service (CUSS) solution at Delhi airport, and is actively exploring the potential of the Internet of Things.
Raghunath explained: "We have an excellent team working across the GMR Group and they've done a terrific job over the past few years even though they're rarely in the limelight, and it's important to acknowledge their work to date. They've been at the forefront of many of the successful rollouts of our initiatives."
He also lauded the culture of innovation, which is promoted from the very top of the organisation. "There has always been a culture of innovation within the GMR Group, well before I joined, and that has been transmitted down from our Chairman (G M Rao) who has been a trailblazer all his life. He's possibly the most energetic person in the Group and many of the technology focused initiatives are a result of his commitment and passion to new initiatives. Further, our Business Chairman, Srinivas Bommidala, is spearheading digital and IT initiatives across the Group and has really been pushing all of us hard to think differently and follow a policy of 'unlearning and relearning through our digital initiatives'."
Single tokens, AI, machine learning, robotics and more
When quizzed by FTE on which technologies are likely to have the biggest impact on the airport industry in the coming years, Raghunath stated: "A single token ID system (like the Aadhar in India) that will allow us to do away with multiple layers of ID and screening at different points; the use of advanced analytics, AI (artificial intelligence) and machine learning that will allow airports to achieve huge degrees of operational efficiency through B2B initiatives and a more curated passenger experience through B2C initiatives; and the use of drones and advanced robotics to simplify passenger, baggage and GSE related operations."
The term "digital airport" has become something of a buzzword of late, but Raghunath has clear ideas about what it means for GMR Airports, and how they can make it a reality. He explained that the digital airport will need to combine three key elements – product, service and brand – across both the physical and digital environments.
He said that GMR Airports is focusing its efforts on four key challenges: "Finding the right balance between investment in capacity, technology and improved customer experience while dealing with many of the security-related issues that we will all face in an uncertain world; acknowledging the need to become environmentally and financially sustainable; improving airspace capacity and finding new technologies and approaches to deal with what is going to be a major increase in traffic levels globally; and working closely with stakeholders to generate multi-modal solutions."
GMR Airports Innovation Lab
While GMR has had an Innovation Group for some time, the Group is now in the process of setting up an Innovation Lab. "More than anything, I think the lab/studio approach allows us to ideate in a more focused way," Raghunath explained. "It also helps in engendering a culture of risk taking, asking questions and potentially failing fast, which is fundamental for our long-term growth. I really can't see any downside."
He revealed that the Innovation Lab will focus on working with established companies and start-ups in a "co-innovation" environment, where the development of ideas and proof-of-concepts is freely shared.
"We are working closely with a well-known incubator of start-ups who are helping us build both scalability and agility in our approach to development and implementation of ideas," he revealed.
This willingness to embrace collaboration and to fail fast in the search for solutions that can make a real difference places GMR Airports in a strong position. While some airport operators are quite happy to sit back and wait for others to innovate, GMR Airports is taking a front seat in the drive to define the industry's future.